"How can a festival live up to the fact that it is a public, communal, and hence a political space?" this was the question posed by Berno Odo Polzer, artistic director of MaerzMusik, in this year's editorial note.
In times of mass migration, change, and political instability on both global and local scales, the festival made the important decision not to shy away from these issues, but rather to engage with them head-on. Creating a community that corresponds with the current state of affairs is not an easy challenge, all the more so given the relatively insulated environment within which contemporary music is often produced and consumed nowadays. Reconciling this political ambition with the confines of the festival and its homogeneous intellectual-class audience is liable to create tension. In a short conversation Polzer acknowledged this tension: "the first step is recognizing one's privilege". Polzer is keen to create a political debate in the new music scene.
One way to do so was by hosting a "thinking together" conference, held this year under the title: "Decolonizing Time". In the words of theoretician Donna Haraway this means "[...]coming to inhabit multiple temporalities, coming to inhabit enfolded and entangled times that are ontologically complex [...] learning to inhabit these times of urgent trouble with a memory that is not and has never been all of time, including all of now [...]". The conference hosted a three day Gender Relations in New Music workshop led by Georgina Born, Ashley Fure and Arnbjörg María Danielsen as a positive continuation of the GRID events in Darmstadt last summer.
This year's program presented an inclusive and diverse spectrum of works by composers, performers, musicologists and philosophers. It is the curation of this festival that makes it quite wonderful to visit – where else could one watch a video-essay-composition from the 70s, followed by a grandiose performance of a recent composition by the vocalist Eva Reiter together with Ensemble Ictus, juxtaposed by a late night recital of Maronite and Byzantine songs and motets performed in a nearby church by the Belgian Ensemble Graindelavoix?
The opening night of the festival presented three pieces by African-American composer, pianist, vocalist and dancer Julius Eastman, whose work often deals with questions of race and gender. Eastman is considered to be one of the pioneers of the minimalist movement, and is known as one of the first composers to integrate pop music elements in his music. He passed away at the age of 49 in New York, and only gained wider recognition posthumously. During the past couple of years his work has been featured prominently in music festivals; at times this can seem like tokenism, an easy way to subdue questions of identity politics.
The concert hall was turned into a amphitheater of sorts, allowing the listeners to sit around the four grand pianos. The four pianists performed to a sold-out Berliner Festspiele, opening the concert with the energetic, almost demonic, Evil Nigger.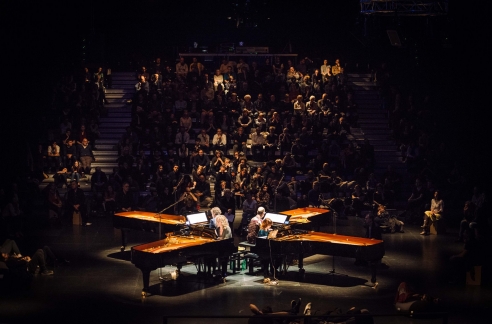 Opening: Julius Eastman, Haus der Berliner Festspiele, MaerzMusik 17.03.2017
All three pieces consist of a rapid repetition of notes, the harmonies changing every minute and a half. A long drone is created through the relentless repetition, filling the concert hall and the listeners' bodies with a resounding tone and fierce overtones. In Evil Nigger, the falling fourth motif played throughout the piece resembles the opening of Mahler's fourth symphony, and "Gay Guerilla" is known for quoting the Lutheran hymn "A Mighty Fortress Is Our God" as a gay manifesto.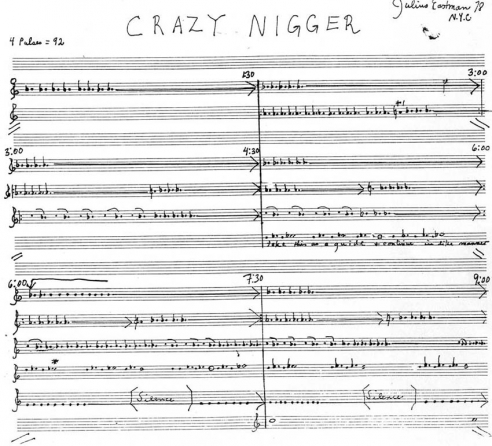 Crazy Nigger Score, Julius Eastman
During a short intermission, a rare recording of Eastman, in which he refers to his provocative work titles was played for the audience. Eastman elaborates about his use of the word "Nigger", it has "a basicness, a fundamentalness, and eschews that thing which is superficial or—what can we say?—elegant."
Throughout the concert I couldn't help but wonder what it must be like, performing the three pieces one after the other, pounding relentlessly on the pianos for two hours? Questions about the physical effort of performing these pieces came to mind.
This feeling of marathonic duration was present throughout the festival, Ensemble KNM's concert at Radial System on a Monday night lasted four hours, and many of the festival's evenings were several hours long – clearly the Long Now was taken here quite literally. On the one hand this offered an opportunity to commission plenty of new works and involve lots of artists, but on the other hand, it seemed to be testing the limits of the audience's capacity.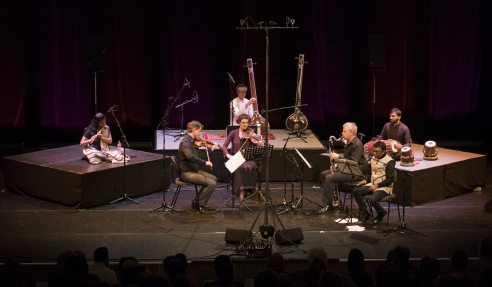 Memory Space, Ensemble KNM w/ R. Vinayakam, S. Subramanyam, A. Krishnan, Radial System, MaerzMusik 20.03.2017
Eva Reiter's The Lichtenberg Figures for voice and ensemble – a series of seven songs and six interludes opened with an instrumental prologue – was composed after the American writer and poet Ben Lerner's collection of sonnets. The stage and light design created by Nico de Rooij and Djana Covic changed synchronously with the music, providing the spectator with an immersive experience. Reiter utilizes a plethora of electronic effects, with vocals reminiscent of PJ Harvey's grunge and Laurie Anderson's mechanized voices. The different movements dissolved into one another in what seemed like meticulously organized chaos. Every hit of the bass drum seemed to insinuate the coming of a groovy resolution, only to dissipate into a dense, raw, metallic fog.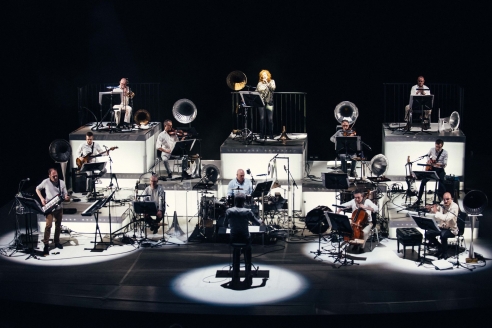 The Lichtenberger Figures, Eva Reiter & Ensemble Ictus, Haus der Berliner Festspiele, MaerzMusik 18.03.2017
Composer, performer and artist Jennifer Walshe's Everything is Important and An Gléchant were two remarkable performances, representative of Walshe's rich interdisciplinary work. Walshe's improvisation together with Tomomi Adachi, Chris Heenan and Mario de Vega to her first short feature film An Gléchant, was especially moving. I was taken by the performativity of the electronic musician Mario de Vega, his subtle electronics acting like a thread linking the four players together.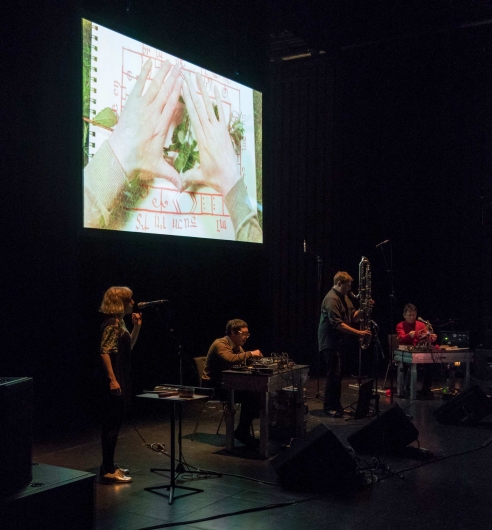 An Gléchant w/ J. Walshe, T. Adachi, C. Heenan & M. de Vega, Haus der Berliner Festspiele, MaerzMusik 18.03.2017
Ensemble KNM in collaboration with musicians from the south Indian metropolis of Chennai explored "cultures of musical memory and their creative and political implications" in an evening titled Memory Space. During the first two parts of the concert, a repertoire of mid 20th century compositions, works from the 70s and a new composition by Ana Maria Rodriquez, was performed. The traditional Indian instruments merged into the Neue Musik aesthetic and context, producing dissonant, metallic and fragmented sounds. In a short intermission the Indian composer and vocalist Ramesh Vinayakam introduced the Gamaka Box, a notation system for Carnatic music developed by the composer himself. This was a somewhat didactical introduction to the last climatic part of the concert, in which members of Ensemble KNM joined the musicians from Chennai in playing traditional Indian music. This time, the bass clarinet, violin and viola players adopted the rich sound palette and gestures of Carnatic music.
Surely, the intention here was to decolonize, bringing two cultures of musical memory closer together. The bizarre 70s Claude Vivier piece, the length and the grandiosity of this event felt completely out of context, and raised questions about cultural colonisation within the audience. Having just spent two months traveling in the south of India, I left the concert with a certain feeling of unease. As one might say in India, the concert just didn't have the right vibe.
A week after arriving in India, I asked my meditation teacher if he might know someone who could teach me carnatic singing. He asked me, for how long was I planning to stay? When I answered I was planning to stay for two months, he answered smiling: I'm sorry, but nobody is going to teach you, two months is a very short time, in India we like taking our time, doing things slowly slowly.
So much of Indian music is about the ability to listen and improvise. Often spirituality is involved. A practice which is very different from playing from a score, and certainly isn't about learning or memorizing a difficult passage as fast as possible to be able to perform it in a concert. Obviously, a skill and language which could take months if not years to master. In that sense I wish this project would have been presented in a forum or way which is less goal oriented, emphasising the process and collaboration rather than the result.
Catherine Christer Hennix, one of the pioneers of electronic music and sound art, was a central figure in this year's festival. Her installation and performances were presented at the domed Silent Green Hall in the northern part of the the city.
A special guest of this year was the 86 year old Alvin Lucier, his pieces performed throughout the festival. A new version of his 1978 piece Clocker – in which the sounds of a Tennessee Walker striding on a hard surface road are accelerated and decelerated in response to the output voltage of a skin response sensor attached to the performer – was performed by Lucier himself in the echoey hall of a local church. "I wanted to make a work in which the performer could speed up and slow down time, stopping it, if possible, simply by thinking", describes Lucier – perhaps an artist's attempt to decolonise time.
During the first ten minutes the audience seemed to be engaged in the performance, though for the following half an hour one's concentration drifted away, the audience fidgeting uncomfortably while some of my neighbors were sound asleep. It might have been a completely different (possibly more suitable) experience, listening to this composition in an open space, which would allow the spectators to move around freely, engaging and disengaging with the performance according to their own capacity.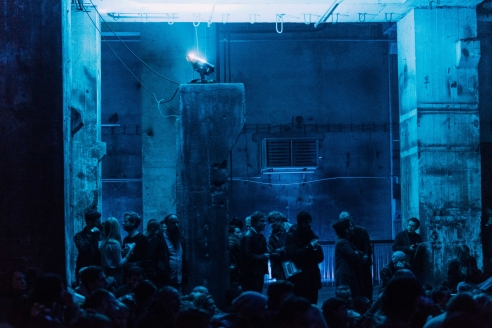 The Long Now, Kraftwerk, MaerzMusik 2017
The Long Now, a weekend featuring over 30 hours of music is a mini festival on its own. Held in a massive concrete former power plant in the centre of Berlin, the weekend is a rare new music event in which the spectators are free to experience music in a fluid way, moving around the monumental building, lying or falling asleep on bunk beds, coming and going in their own time while (possibly) sipping a gin and tonic. A fusion of works ranging from new music classics, such as Morton Feldman's pieces, to electronic music artists such as Kara-Lis Coverdale, Punctum and Tim Hecker.
The Long Now, Kraftwerk. A. Lucier: I am Sitting in a room. MaerzMusik 25.03.2017Lucier's canonic work I am Sitting In a Room was one of the weekend's highlights, performed to a vast crowd of eager fans. The performance was quite short in comparison to the famous recording, due to a commotion caused by too many bunk beds. Apart from the purpose of sleeping, the bunk beds made incredibly loud swishing noises and inadvertently created a somewhat strange sleepy atmosphere especially during the day. Nonetheless, sitting in this room with its phenomenal resonance, listening to Lucier performing the piece himself was a unique moment in the festival.
Later that evening, I fell asleep listening to Leyland Kirby's the Vast Sea of Recollection, waking up early in the morning feeling floaty after a couple hours of lucid, high frequency dreaming.
In Kraftwerk's colossal space, listening to acoustic pieces was somewhat challenging, bass frequencies from the neighbouring club Tresor intruded the intimate broken harmonies of Feldman's Patterns in a Chromatic Field performed by Duo Ascolta.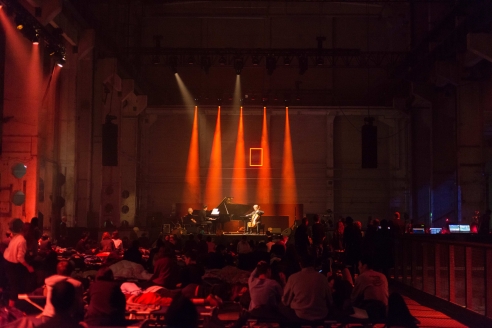 The Long Now, Kraftwerk, Duo Ascolta MaerzMusik 26.03.2017
Ensemble Graindelavoix presented two staged performances during the weekend, a wonderful chance to listen to the sheer perfection of their a-capella singing again. The performance involved the dragging of wooden chairs from one place to the other, forming small different groups around beautiful minimalist lamps, all narrated by the soprano. Unfortunately it was acoustically challenging to follow the narration, and it felt like the staging and the narration were a bit lost in the industrial space, perhaps even unnecessary, especially in comparison to the concert (presented a week before) in the church.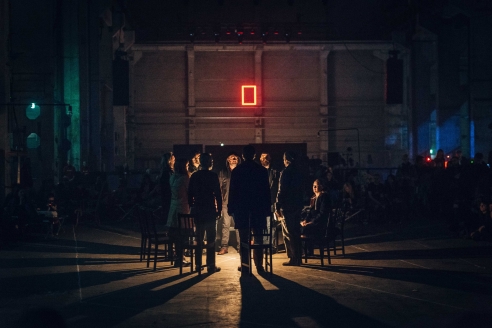 The Long Now, Kraftwerk, Grandelavoix, MAerzMusik 26.03.2017
Listening to Byzantine motets in this context evoked again the question of the decolonization of time. Remarkably, through the interwoven electronic, contemporary and early music performances the possibility of inhabiting multiple temporalities felt tangible.
Tim Hecker, American electronic musician and sound artist, was the last to perform in this festival, bringing ten days of avant-garde music to a closure. Hecker, camouflaged by a haze of fog, transmitted into the room an array of drones, spatial harmonies and metallic sounds blurring into each other. The abundance of frequencies, noise and harmonies sounding clamorously in the space guided the spectators through a deep, meditative form of listening, one could almost levitate through the space.
On the last day of the festival I had a chance to talk with a fellow musician about the festival's curation, its intention to engage with its social environment, and relate to the current political situation. He mentioned that in Berlin there's a saying which goes "Dancing is political", wishing to celebrate small underground cultures, communities, even if they serve just a small group of people. It also refers to the famous hedonistic spirit of the city. And indeed, it was at the very end of the festival that the dancing at one of my favourite small local clubs, OHM, began.
Through its curation and "alternative" ways of presenting music, MaerzMusik comes close to realizing its ambitious intention. While participating in the conference and observing the fellow listeners during the Long Now I could feel how a community was forming. The Long Now is probably the only contemporary music festival my non-musician friends are excited about, and indeed, the weekend attracted a varied crowd, old and young, familiar faces one often sees in contemporary music festivals in Europe, and a lot of music lovers. Music festivals are often conservative in their programming, including the same usual suspects (mostly white and male) year after year. In MaerzMusik, you could find familiar names, but at the same time in terms of gender balance and diversity, it seems like the festival did make a conscious effort to open up and enable more artists to become a part of this.
There is tension inherent in any political ambition ascribed to music and art – can a music festival, let alone a single concert, truly be politically engaged? Can it reach wider audiences? Is that even its role? Clearly one festival can't supply all the answers, but raising these questions, as was the aim of this years Maerzmusik, is in itself an invaluable undertaking. These ten days of music left a lasting impression; the festival's uncompromising ambition is bound to resonate for years to come.