Aarhus is experiencing an Indian Summer. Nature does not want to go into hibernation mode. Allan Gravgaard Madsen sticks his head out onto Line Tjørnhøj's balcony in Trøjborg: "The things we do have to mean something," says the 32-year-old composition student at RAMA, with his radio-friendly voice. He has been on the AUT board since 2008, which then served as a traditional concert association. We have arranged to meet and talk about what has happened since then and what is happening right now.
Are you ready to be commemorated?
"I believe so. We are in good shape. We are ready to win people's hearts with our anniversary concert – the programme, orchestra, soloist and conductor are all on an international level. And we have composed a banquet speech!"
"When people come to us, they expect us to find a solution."
"We are very lively," adds Line Tjørnhøj. If you ask anyone in the music scene, they will tell you that the 56-year-old chairman of AUT, since 2011, has professionalized the association and given it a profile. She has often referred to AUT's projects as basic research. You no longer just ask people to 'come and play this or that' – which is not synonymous with not taking chances.
"The willingness to take risks has firmly rubbed off on the scene," says Allan Gravgaard Madsen. "When people come to us, they expect us to find a solution. When we are in doubt – is it going to work, or not? – we have always chosen to say that it will work."
Out of the comfort zone – bring it on!
Instead of restricting the musicians, AUT has in a number of its projects opened the doors to its inner workings.
You like to pull the rug out from under the musicians?
"Classical musicians are used to having people tell them what to do. We have tried to get them out of their comfort zone. Some of them grab the opportunity and run with it, others need coaching," says Line Tjørnhøj.
"Classical musicians are used to having people tell them what to do. We have tried to get them out of their comfort zone."
In the project coOPERAtion, which comprised four 'laboratories' in 2012-2013, a number of composers, performers and set designers were invited to explore or challenge the opera framework, together with the music collective Lydenskab. One of the participants, the Lithuanian composer Ruta Vitkauskaite, took the score away from the musicians, who demanded that she return their notes if they were to carry on playing. And the young British composer Laura Bowler wrote a libretto with quotes from interviews with great composers and their response letters to critical reviews. Bowler kept on changing the score, and some of the musicians couldn't deal with it. While others rejoiced: "Bring it on!"
Not trying to be cool
Collaborative work in general has been of major importance. Since 2014, AUT has presented the programme "Nye Spor" during Aarhus Jazz Festival, and in the same year, in collaboration with Kunsthal Aarhus and the ensemble Apartment House, AUT hosted an open call for composers from all over the world to submit alternative scores, so-called open scores. In 2016, AUT has collaborated with Aarhus Symphony Orchestra on three big projects: BEINTA, a symphonic song cycle by Anna Katrin Øssursdóttir Egilstrøð and Allan Gravgaard Madsen; TUSK – a street opera in Jægergårdsgade in Aarhus by Line Tjørnhøj; and the concert on 7 October, with works by Anna Thorvaldsdóttir, Simon Steen-Andersen, Rasmus Zwicki, Lasse D. Hansen and Mathias Monrad Møller.
BEINTA, which took place during SPOT festival in the spring, frames, according to Line Tjørnhøj, AUT's uniqueness – namely working with post-genres. Instead of categorization as 'a kind of pop' or 'classical music', our attention is directed to other platforms, which appeal to the audience:
"The music is allowed to be what it is. In the times that we are in right now, it makes so much sense to work with different platforms. However, the starting point is always quality. We do not do things to be cool. It always starts with the music," points out Line Tjørnhøj.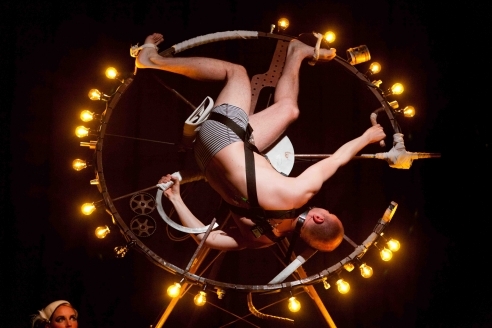 From the coOPERAtion production of Lasse Schwanenflügel Piasecki's 'Falling Awake'. Copyright: Toke Hage.
Let's do something
The recipe is simple. With a kind of je ne sais quoi attitude, AUT invites musicians and composers to collaborate according to the mantra: 'Let's see what we can create together – completely from scratch.' Often, the research and the collaborative process have been the goal in itself.
Not everyone is as open to your experiments, though? Some people might think that avatars and game show jingles do not belong in the opera?
"We have demonstrated that it is not true that the audience does not want to hear new music."
"It is necessary to move with the times. And by the way, there are many young musicians today who are incredibly open and willing to adapt. All the special ensembles we have worked with – DECODA, JACK Quartet and International Contemporary Ensemble – do not even blink an eyelid when they see strange black squares in a score. The dialogue we have had at AUT is a dialogue that is not present elsewhere in the Danish art scene. We have demonstrated that it is not true that the audience does not want to hear new music. One must rethink the concept and be serious about the fact that the modern audience wants to have another kind of relationship to art," says Line Tjørnhøj.
AUT speaks up, when others dare not?
"When passers-by randomly experienced 100 musicians playing and singing from apartments on Jægergårdsgade, it was possibly the first time they encountered the city's symphony orchestra. In the same way, BEINTA during SPOT attracted a wildly diverse audience, who afterwards talked loudly about what they had experienced."
There will also be something to talk about with the concert on 7 October. Mathias Monrad Møller has created a 'banquet speech work', that will be like "a kick in the groin," says Allan Gravgaard Madsen. The entire text is about how if musicians dare they can play anything they want to: "The idea is that musicians must avert their eyes from what is written in the score. It will be exciting to see whether anyone dares, or if they are like lemmings and just do what is said."
Big and beautiful
"The things we do, the things we say," Allan Gravgaard Madsen paraphrases a famous Danish pop song, as darkness falls over Aarhus. He was born in 1984 and admits that he does not have the history of the association at his fingertips. Some people in the scene are far more interested in the bigger AUT story: "Can you just get started with making a scrapbook," someone wrote to Line Tjørnhøj the other day.
It has to mean something, you said earlier. Where is AUT going?
"It has taken a lot of energy to set up these comprehensive projects, and there is no doubt that we are a bit out of breath. Where does one go now?" asks Allan Gravgaard Madsen. "We are taking a little break here. Rather than grow, maybe we should downsize a bit. Maybe go from 'big and beautiful', which could be a nifty motto for our anniversary year, to 'small and delicious'."
"Everyone who has visited our garden has been fertilized."
"It is like a well fertilized garden, and there is a good foundation for diversity. So it can go in new directions. Everyone who has visited our garden has been fertilized," says Line Tjørnhøj.
AUT has always been accommodating and flexible – people have come and gone, some people left their mark for a four-five year period, others have since joined the association. It has been a kind of 'education in entrepreneurship' for Allan Gravgaard Madsen:
"You learn something about processes when you work with a celebrated quartet like JACK Quartet. I could not have helped organize the Young Nordic Music Days Festival this year, if I hadn't been trained at AUT," he says and adds: "AUT will probably find a new timbre. The association is the people who are within it. The board is made up of people with a variety of skills. With bassist Frederik Sakham on board, one can easily imagine that there will be a trace of the Jazz world in the future."
Where do we go now?
Next year will be a year in which a lot of cells will be activated: coOPERAtion will continue – with 30 composers coming to Aarhus to work on a new opera; AUT is collaborating with the School of Architecture to design electronic pieces for the new light rail stations; and the international orientation continues with associations in Asia, the Middle East and America.
"It is almost taboo to say it. But it could be that AUT just disappeared."
"2017 will be like a deep breath," says Allan Gravgaard Madsen. "We are always open to ideas and invite young people to join the board and take part in shaping the association. But it shouldn't just keep going at any cost. It is almost taboo to say it. But it could be that AUT just disappeared. There has to be an idea behind why we should carry on."
It sounds just like a relationship!
"How does one stop? I have thought about it a lot," says Line Tjørnhøj. "It will probably just collapse."
"Like a phoenix," Allan Gravgaard Madsen finishes the sentence.
If AUT is to continue to be in perpetual motion, carry out musical basic research and act as a dynamo that makes things happen, Allan Gravgaard Madsen's alleged 'lack of history' might prove to be an excellent strategic approach. Desire, enthusiasm, the 'we just do it' attitude and a little bit of self-irony are surely not bad qualities for AUT to build on from.
"Everyone who has visited our 'garden', has talked about the value that art has today and why we even make music at all," says Line Tjørnhøj in closing. "We have all talked about it. We have had some crazy experiences: under a bridge, in an airport, in old concert halls and new music auditoriums. Maybe the garden should just look after itself for a while. But, it could be interesting if there were others who took over the garden. Really took over the garden."