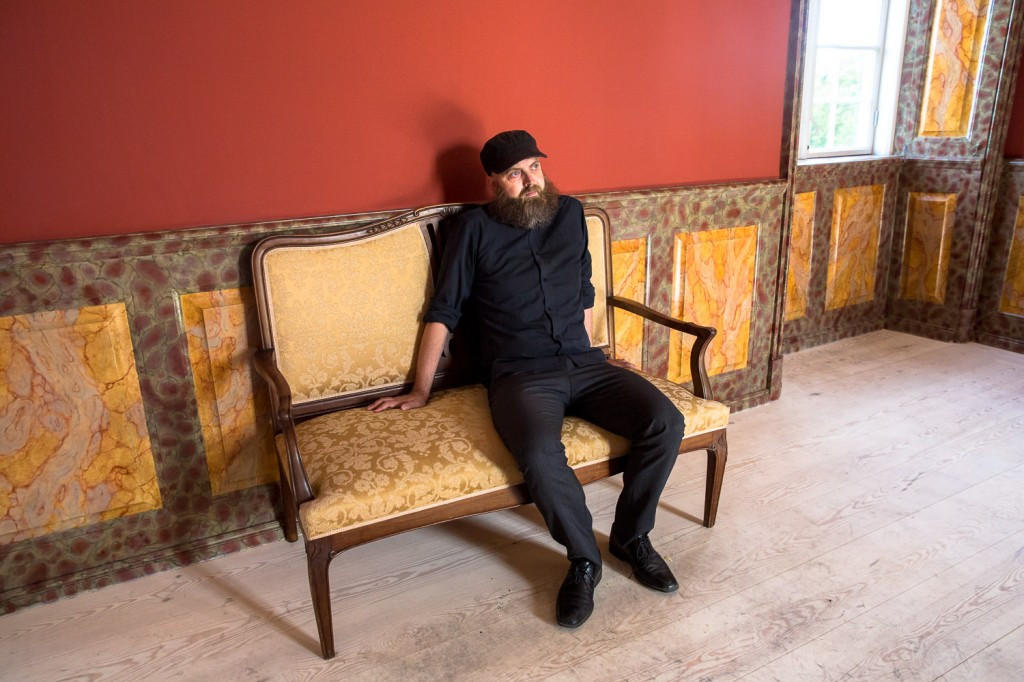 Christian Winther Christensen. © Mette Kramer Kristensen
'I wanted to be radical'
Instruments struggle to voice themselves in the music of Christian Winther Christensen. In many ways, his focus on small sounds and deep concentration is a perfect match for a time of silenced soundscapes.
Right about now, Christian Winther Christensen should have been standing in front of a room full of people, introducing this year's edition of the 'avant-garde music festival' Klang. Then 2020 happened. Klang has been commuted to November, when it will take a more modest, domestic form.
Very little about this spring feels normal and that includes my meeting with Christensen. We walk hesitantly into a café near his studio in Nørrebro and order food and coffee, which are dutifully delivered to a table. It's the first day in more than two months such decadence has been permitted in Denmark. Every small element of pleasure involved in the process is magnified.
'I try to think of most people when I am composing; to take the audience and control it'
Tilt-shift universe
The extent to which the ear relishes a simple C major chord depends almost entirely on its context. My introduction to Christensen's music was via Chromatische Weltmusik (2013), a double concerto in which a huge orchestral apparatus and two soloists produce hardly any noise at all while engaging in a flourishing, rhapsodic musical conversation. Our ears and eyes experience the music as if through the wrong end of a telescope. After all the pattering and tiptoeing, the organ roars out in C major – a sudden burst of blazing, sunlit freedom.
Christensen has forgone a lot this year in addition to Klang. On March 18, he should have been in the German capital accepting the Kunstpreis Berlin, a result of his new Piano Concerto (2018) premiered in Stuttgart in February 2019. The score is archetype Christensen: it lures its listeners into a charming and distinctive hinterland, one that drapes a blanket of quietness over a mass of precise detail. Focus and clarity reign supreme; every gesture is weighed and refined.
The tilt-shift musical worlds Christensen's music creates are beautiful, charming and wholly original. Countless times, I have witnessed them ease the atmosphere of a room during a self-regarding contemporary music festival. Behind all the scraping, twanging, flicking and clicking, Christensen uses melody and tonal harmony exquisitely. Poul Ruders sang a quotation of the chorale tune from Christensen's Sextet (2014) when his younger colleague came up in conversation recently. 'Three or four minutes [six] and that's it – but isn't it brilliant? He uses the melody in an entirely new way but he knows exactly how to use it. And exactly when to stop.'
'My work is made for concert halls; it's important that you are looking at the musicians,' Christensen says, on the other side of the café table and in his trademark military cap, referring to the inbuilt theatre of Chromatische Weltmusik and his work of-the-moment, Four Hyper-Realistic Songs (2015, recently included by the Viennese label Col Legno on the all-Christensen album Almost in G, 2019).
'I try to think of most people when I am composing; to take the audience and control it. That means using some rhetorical devices. It's fun when people get an idea where you're going, and you then go somewhere else. As a composer you're thinking about a line that's leading from one place to another; you're making a story in the music, an abstract story anchored by form. The final movement of the Piano Concerto gets slower and slower; it's a test of whether you can hold the concentration.'
It sounds the very opposite of Allan Gravgaard Madsen's recent Nachtmusik, whose opening with a tempo-scheme goes in the other direction. 'Yes but of course, there can only be so many of these Boléro-like pieces.'
No originality without individuality
Few composers will find a voice as distinctive as Christian Winther Christensen's, but it took some time to get there. Listening to one of his most prominent works, A Fall from the Perfect Ground (2006), it's clear that his style was once far more conventionally contemporary: atonal, dynamically fluctuating 'middle European'.
It feels strange now, he says, to listen to his own first String Quartet (2003). 'I wanted to be radical. This work, where I was thinking I was being radical, now looks like the most most traditional work I have written.' The problem is trend. 'Nearly all composers who want to be radical end up doing the same stuff. First it was having a megaphone in your piece, then a toy piano, then a cheap Youtube video, then flashing lights. You want your own style and you end up all looking like each other.'
Christensen began his studies in Aarhus in the 1990s. It was his colleague there, Jens Voigt-Lund, who 'came in with all this Lachenmann, Sciarrino and Ferneyhough'. They became interested in the generation after those figures, Mark Andre and so on. 'It was consciously anti-Danish. We had been listening to lots of Per Nørgård and Karl Aage Rasmussen. Bent Sørensen was our teacher and he was very inspiring, using some techniques from central Europe.'
'Nearly all composers who want to be radical end up doing the same stuff'
Helmut Lachenmann's radical view of instrumental sound production might be an antecedent of the model-village, low-volume techniques we hear in Sørensen and Christensen. Have Danish composers taken ownership of the idea? 'Not consciously. They're not thinking about it, I wouldn't say. But you do see it. It's in Simon Steen-Andersen's older work, in Simon Løffler's music sometimes, and also in some younger composers like Martin Stauning and Allan Gravgaard Madsen.'
The more I return to the idea of quietness in Christensen's music, the more he suggests it's a byproduct rather than an objective. 'It's easy to write quiet music, you just write pppp on it. When you're using the techniques I use – strings playing on the bridge, for example – it will automatically sound quiet. Of course, that's my style now. I could have done a lot of the same thing with louder music.'
Maybe. But there's a strong argument that the low volume levels have sharpened the sensitivity in his music and in the ears of his audience, focusing us on the silent, physical art of handling an instrument and interacting with other musicians. Christensen's scores are increasingly calligraphic, his form more considered and his use of harmony subtler and more radiant. 'If you have smaller sounds people have to concentrate more to listen to them,' he says; 'they listened very carefully and quietly to my Viola Concerto [premiered in Odense, February 2019] and it was as if they really got something out of it even if they didn't actually like it. What they really wanted to hear was the Brahms afterwards.'
Music like Christensen's is almost as hard to play as it is to write about. When Chromatische Weltmusik had its premiere in 2016, the composer made video tutorials to demonstrate the necessary techniques to the musicians. 'Maybe I should do that more, but I just don't have time,' he says. As for notation, 'you have to make it as least annoying as possible. Then make some friends in the orchestra and smile a lot. For anyone, let alone a young woman [he refers to the difficulties faced by Marcella Lucatelli], it's tough to stand there in front of an orchestra. Really tough.'
That won't stop Christensen seeking the opportunity out once more. He has 'a very good idea' for a new orchestral piece and is eyeing Germany for its first performance, following the success of the Piano Concerto. 'I want to have a premiere outside Denmark, where you have a big exposure to the European music scene. Otherwise you write a big work that will only get played once.'
Denmark is a comfortable place to be a composer, I suggest. 'Yes and Norway is an even easier place to be a composer, but that's like talking about whether it's easier to be male or female. You are what you are.' Besides, he has certain issues with the way his music is written about in his homeland. 'A lot of reviews of my work in Denmark will automatically put me in connection with other composers. Sometimes I prefer to be outside Denmark, where I'm not so well known, so my music can be heard on its own terms. And perhaps they like my music better there.' He clearly believes in the ferocious originality of his music more than its position within a tradition, however new or old. 
Lockdown blues
When Denmark locked down on 11 March, Klang was in its final stages of preparation. As the festival's Artistic Director, Christensen compares the slow process of its cancellation to a cancer diagnosis: 'first you sense that something will happen and something will change, and then you have an abundance of time to think about it. Perhaps you will survive, perhaps you will not. In that time you start to see what alternatives you have.' The festival will now run from 30 October to 8 November and will be 'kind of more Danish, less international'.
Composing in the time of covid-19 has proved more challenging. 'In the beginning I composed a lot, but I gradually started to find it more challenging,' says Christensen. 'If you are just at home with your family you stop getting ideas. If you don't have a deadline, you stop writing. I work best when I am busy.'
It extends beyond deadlines and inspiration. 'It's strange, but in some ways in the last two months I have forgotten a little how to be a composer. I have lost my identity a little. It's a very long time since I heard my own music being performed. If you don't hear your own music being played, you know…' he trails off. Does he worry about his ability to get back into it? 'No, I think I can compose in the same way again. I have deadlines for two or three years. When I tried to write last week, it was difficult to get into. But it can change very fast.'
'In some ways in the last two months I have forgotten a little how to be a composer'
Christensen missed the organ bench during the lockdown even more than he missed composing. In the two weeks before we met, he has been gradually allowed back into the two churches in Frederiksberg where he works as an organist. 'I missed practicing, because I don't have so much time to practice anyway,' he says. 'It's more important to me to compose, but it's more fun to play the organ. I have missed the church liturgy, the ritual, all the timing around the church service that is quite unique in Denmark – how things are repeated and connected in all kinds of ways. I try to use this in my work. Because going to a concert is sort of like a ritual.' He has written functional church music, he says, but not put his name to it.
The conversation turns to Bach, Buxtehude, and Thomas Laub. 'I am a very big fan of Laub,' says Christensen. 'People normally see him as a kind of grey choral composer but he is very important in the way he reimagined historical elements, the way he looked back. I always use his chorales.' Does he see a gulf between the cosmopolitan but stilted Buxtehude, and the insular genius that is Bach? 'I see Buxtehude as really made in a certain style and tradition, and you can sense it even in his notation. You can more-or-less improvise it. I love Buxtehude very much but Bach is something else. I love playing Bach. I make a lot of small mistakes, but that's okay.'
Respect/disrespect
2020 is the year we were supposed to be celebrating Ludwig van Beethoven, but cannot. Christensen has spoken before about Beethoven's inescapable presence in the minds of many composers. He refers literally to the composer in his String Trio (2009), second string quartet (Heiliger Dankgesang, 2006) and Andante con moto (2010), which toys with a fragment of the Ninth Symphony.
'Beethoven was viewed as so holy that of course you can't touch his music. But of course you could. At the time I thought it was my own idea but then everyone started doing it. It was the same with repetition; it was seen as so corny to have a big repeat, so in A Fall from the Perfect Ground I decided to have a seven-time repeat. You didn't do that.'
The sense of humour in Christensen's music may tend more towards the ironic, but I have always found there are moments that prompt involuntary laughter – among them the roaring organ of Chromatische Weltmusik, which comes only after the instrument's miniature cousin, the accordion, has struggled to say anything out loud. 'That worked well,' says Christensen; 'it was fun – a kind of stupid answer.'
It has been liberating to hear people tittering in performances of Chritsensen's music – laughing with it, not at it – as they did during a recent performance of Four Hyper-Realistic Songs in Helsinki in 2018. There are sounds in his scores that remind you of the time you twanged a ruler in a mathematics class, but are positioned with the sort of sophistication and timing that give the gesture far more meaning and complexity while not stopping the fun.
'I don't like it when people laugh in my concerts,' says Christensen, to my surprise. 'I mean, I don't get angry, but it's not made for laughing.' He doesn't hear humor in it? 'Well, there can be a little play, and sometimes it's fun.' Maybe composers themselves aren't best placed to judge. 'I went to a performance of Beethoven's F sharp major piano sonata recently and there was someone in the audience laughing at specific points,' he says; 'there is actually a lot of stupid stuff in Beethoven, but because you listen to it as classical music, you don't think of it.'
The gameplay in Christensen's music is becoming more and more sophisticated. It is both aural and physical. The Piano Concerto is an example; as well as the slow-speed test of its final movement, the piece is full of quotation and includes a decoy pianist who tricks the audience into believing they're hearing the soloist on stage when they're not.
'I don't like it when people laugh in my concerts. I mean, I don't get angry, but it's not made for laughing'
The composer's work with his former collective Dygong (including colleagues Nicolai Worsaae, Simon Løffler and Regin Petersen) has allowed him to experiment and taste-test in a safe space, without much concern for audience reaction, pushing himself into 'the kind of language where I didn't know exactly what was happening. But of course, you always are just taking a little step every time.'
You can recognise his style in an instant right now, but responsibilities come with such a distinct voice. 'Of course, you can't repeat the same tricks. The aim is to get cleverer and cleverer with each piece. Just in different ways.'