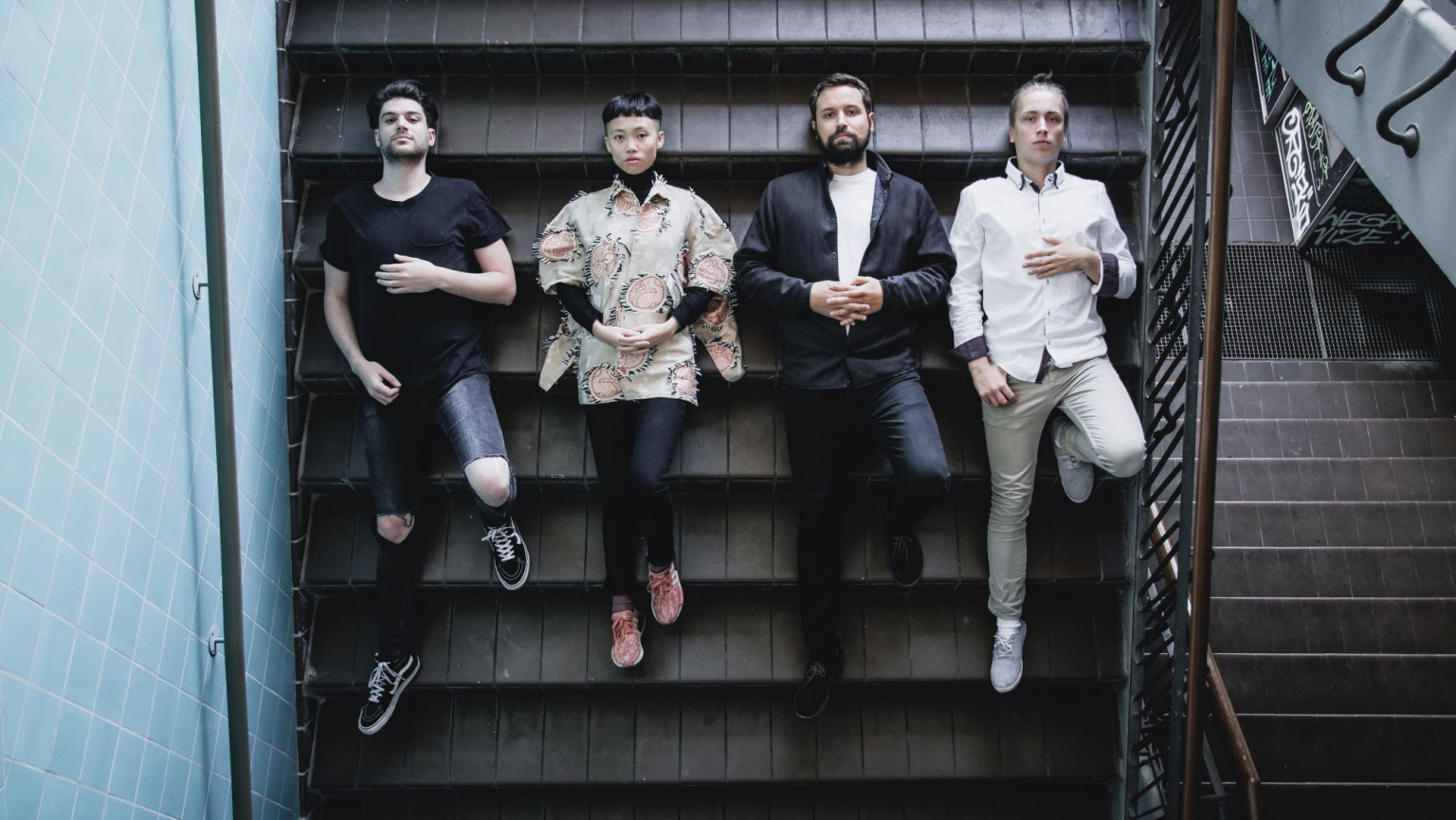 Lorenzo Colombo, Fei Nie, Mads Emil Dreyer, and Kalle Hakosalo are Neko3. © Konsfoto
'Things are very anarchistic right now'
Fei Nie, Lorenzo Colombo, Kalle Hakosalo, and Mads Emil Dreyer – three musicians and a composer. Together they're Neko3, one of the most visionary ensembles at a moment where the scene is changing rapidly.
Seismograf doesn't normally sit down for a chat with ensembles but has made an exception for Neko3 on the grounds that a) the group itself isn't very normal and b) if you haven't already found yourself in one of its audiences, you're probably about to. In the coming weeks, Neko3 will be pretty much unavoidable for the sorts of people who read articles like this one.
Not that you're Neko3's target market. The ensemble rails against the peripatetic nature of the contemporary classical music audience: the same people at the same concerts for the same (mostly professional) reasons. Something of that thought process sprang the group into adolescence after the baby steps of its first concert in November 2017. 'We played Stockhausen's Refrain and some Kagel, but we found ourselves looking around afterwards asking, who are we? What should this ensemble be? Am I really talking my own language?' says Lorenzo Colombo, who trained as a percussionist. 'It became clear that we had an opportunity to create our own vocabulary.'
'It became clear that we had an opportunity to create our own vocabulary'
Neko3 is actually four – its members are prone to dropping the numeral in conversation, probably out of deference to composer Mads Emil Dreyer, who doesn't always appear on stage with his three performing colleagues. But the number is a misnomer anyway for a group that describes itself as a platform for a broad network of musicians and composers – 'a collective of people living now, drinking beers together and discussing what is going on,' says Colombo. 'This is Neko.'
Not your regular ensemble
Neko (2009) is the title of a score for two double flexatones and piano by Jeppe Just Christensen, the first work the ensemble played and from the pen of a colleague 'who really supported us from the beginning'. Getting started wasn't easy. 'We do everything ourselves, and if you want to succeed you have to fight; nobody tells you what to do,' says Colombo.
The ensemble's performers first met and played together at the behest of someone else. They felt something clicked, and arranged to meet and road test the dynamic again before welcoming Dreyer into the fold. At Koncertirken in June 2018, the foursome presented its second self-promoted concert, which included music by Simon Løffler, Simon Steen-Andersen, Xavier Bonfill, Stefan Prins and Dreyer. 'An ambitious and much-needed addition to this country's avant-garde music scene,' concluded Politiken's Thomas Michelsen. Neko3 had surprised even itself. 'It was nice knowing we achieved this ourselves, set it all up – and it did look professional – and that the audience liked it,' says Dreyer. Then, the ultimate accolade: 'A lot of people there weren't musicians,' grins Colombo.
Non-musicians in the audience are easy to spot, says Colombo, because they're the only people he doesn't already know. 'Normally, we play for 30 or 40 people. You're happy when you see people you haven't seen before. I want to see people at our concerts who aren't studying at a music academy or working at one and I want them to feel closer to what we do. It's a problem all over Europe and I simply don't understand why. When you go to a contemporary art museum there are all sorts of people there; it's kind of a language that's accepted by society. But with music it's somehow different – there is this big gap despite the fact that music is designed to provoke reactions, to create discussion.'
One of Neko3's missions is to bridge that gap. Not through gimmicks or even a shift in context, but by insisting on the integrity and unification of the material (through carefully curated concerts) and the depth of its performance. 'We are audience members ourselves,' says Fei Nie, who trained as a pianist. 'We go to concerts and we have a certain feeling for why we should or shouldn't do something.'
'A lot of what we do is actually very accessible,' insists Colombo. But a discussion emerges when I ask whether the ensemble introduces the works it's playing, verbally, from the stage. 'That's a good point,' the Italian says. 'But it is what it is, and the audience can take from it what they want,' returns Dreyer. Nie cuts in: 'If you go to see a film you don't have to have it explained to you first. We've already created the programme as one concept. It should flow, but beyond that people can understand it the way they want to.'
'There is this big gap despite the fact that music is designed to provoke reactions, to create discussion'
Concepts have included silence (in which the group performed theatrical, movement-only works) and multimedia (the latter capitalizing on the group's flair for electronics dispatched with panache). But while the ensemble works hard to integrate the concert experience into a single vision, it works even harder on the level of its own performances, pointing a finger squarely at a lack of finesse in the execution of new music.
In that regard it has taken affirmative action, signing itself up for advanced ensemble-playing lessons with Antoine Françoise in Bern, whose classes, Nie reports, 'feel like a brand-new dawn every time'. Colombo talks of the ensemble adopting the mentality of a string quartet. 'When we go and have lessons [with Françoise], we give the same level of attention to every note and every marking that a string quartet would when playing Beethoven,' he says. 'The perception is, that when you play contemporary music you just throw the sounds around. We often spend six hours on ten minutes of music and are creative in our discussions.' The difference is that Neko3's members are concerned with more than exploring heightened levels of communication via one instrument: week to week, they hardly know what hardware they'll be faced with. Some would say that shows in performances slick, fresh-faced and full of surprises.
Right here, right now
Fei Nie came to Denmark from China half her life ago. Lorenzo Colombo arrived more recently from his hometown, Milan, to study at the Royal Danish Academy of Music (RDAM) in Copenhagen. Kalle Hakosalo, a percussionist like Colombo, moved from Helsinki for the same reason (he is in Basel on the day of our interview, but makes a brief cameo on the phone). Each, including the Copenhagen-bred Mads Emil Dreyer, blows hot and cold on Denmark's music life and institutions. But all three present in the room claim the liberal attitude to the discipline of composition has made this place a hotbed of interesting activity. 'That's why so many composers come here to study,' says Dreyer.
Their imminent projects are focused on two composers who did so, firstly Bára Gísladóttir from Iceland. At her RDAM debut concert on 19 February, which is being designed around the acoustic of Grundtvig's Church in Bispebjerg, both Nie and Colombo will play the organ for the ensemble's segment. Beyond that, 'we don't know yet' [the interview took place in January], though Colombo trails the concert with the promise that 'she [Gísladóttir] is an extraordinary performer … Incredible. Everything she touches becomes art'.
Shortly after that, at RDAM's concert hall on 5 March, Neko3 will provide the very first notes of Pulsar 2020's opening concert in the form of Xavier Bonfill's Yes for No, written for the ensemble and the Danish National Symphony Orchestra by their friend from the academy's soloist's class. 'Talking about identity, this piece really considers the things we have been doing as a group, especially with electronics, and takes them forward,' says Colombo. 'The three of us are at the centre of the stage, Fei playing piano but also some MIDI pads, me and Kalle playing extended drum kits. We will be processing the live orchestra, freezing it and so on. These are things we have been working on over the years; this feels like the end of the process.'
At the very least, the performance will be representative of the group's belief in music as an act of friendship. They are particularly proud that Bonfill asked if he could include them in the score via a message to their Messenger group. The ensemble will soon tackle a new, bespoke score by Marcela Lucatelli and its members have already worked with James Black, which prompts a discussion about these new voices. 'They don't feel restricted by the medium, they just meld everything together,' says Dreyer. 'Things are very anarchistic in contemporary music right now; technology is easily accessible and easy to manipulate. You just mess around and experiment. When it's successful, I think, is when the composer has seen the musical perspectives in something.'
'From our viewpoint,' Colombo adds, 'it's not about what instruments we bring on stage, which could be anything. It's more about the ideas we bring on stage. If those are strong enough, in that moment, it ceases to be a about Lorenzo the percussion player. The medium is background.' 'But it's actually quite difficult to see these things from the outside, when we're on the inside,' adds Dreyer. 'Yes, we're in the process now,' says Colombo. 'We're doing it, caught in the whirlwind.'
In it for the long run
If all goes according to plan on 5 March, Neko3 will make its biggest gesture yet and see its biggest audience so far. In between that concert and its appearance at Grundtvigs Kirke, the group will collaborate with Njyd Quartet for concerts in Aarhus and Copenhagen that will include music by Black, Gísladóttir, Elena Rykova, David Bird and Dreyer's own new work, Vessel.
Neko3 looks busy. But however filled with vision its members seem, operationally they are far from cruising. 'It was a little easier in the beginning, when we were applying for funding for the first time,' says Dreyer. 'Now it's the second time around, and it's tricky. If you do get money, it's to cover the potential deficit.' Individual members rely on other activities to pay the rent, but Colombo dismisses financial concerns as irrelevant: 'If we started from that point, we'd close tomorrow.'
'They don't feel restricted by the medium, they just meld everything together'
It could be hunger that keeps Neko3 on the ascendant. 'You only have one life,' says Colombo, and he is fearless when outlining why his group has the edge: 'I work with a lot of ensembles, and I feel sometimes the creative part is missing; we can ensure that doesn't happen.' Dreyer, who takes primary responsibility for fundraising (a thankless task when you don't see any of the money yourself), is pragmatic: 'As long as the project is advancing, that's very motivating. For now, we will just see how far we can take it.' How do you maintain that momentum? 'You try to get better and better all the time,' says Nie. 'You head to Bern to study with Antoine.'
In rehearsal, they push each other hard. 'We're tough on each other … really tough,' says Colombo. 'But after that, we'll go for a cappuccino and I'll help Fei with her new iPhone.' Is that true, Fei? 'Yes, we never lose respect for each other. It's never about ego.' 'I would actually say that friendship is the basis for the drive that we have – that if it wasn't, there'd be no meaning in what we do,' adds Colombo. 'From my experience of being a composer, so far, you send off your parts and scores to musicians you don't necessarily know, show up to a rehearsal to see how it goes, hear the concert and then maybe never see them again,' says Dreyer. 'Being part of this group is a constant highlight – a chance to be invested in something long-term.'
Neko3 will be playing a lot of concerts in the next few weeks – more info on their website.
Omtalt i artiklen