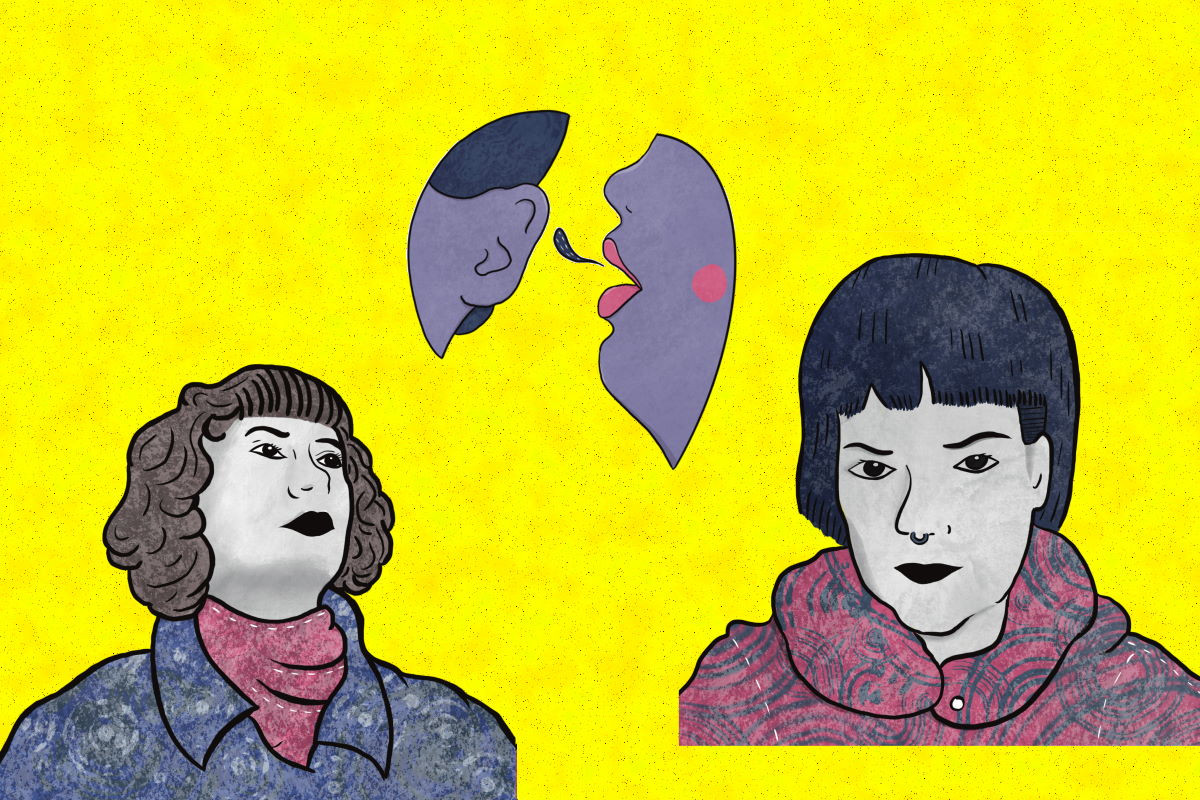 Sofie Birch and My Lambertsen. © Peter Følsgaard
Beyond the ASMR phenomenon
For just about a decade the whispering vocabulary of ASMR has evolved as a sonic phenomenon. At the Academy for Open Listening, in Odense, sound artist Sofie Birch and visual artist My Lambertsen set out a new direction for the genre.
The much talked about pseudo-scientific acronym ASMR – Autonomous Sensory Meridian Response – is said to be an anomalous trigger for what loosely relates to a certain type of visual and auditory-tactile synaesthesia bonding. ASMR allusions first emerged in online chat rooms in 2008 and were initiated by Jennifer Allen, who has significantly shaped ASMR's thought and practice. Exchanges in these chatrooms developed around discussions of sparkly, wave-like, comfortable tingling sensations that start at the crown of your head and can spread through the neck and limbs to induce a luminous and calm environment in the person experiencing it.
In recent years, its subsequent popularity can be seen as a YouTube emancipation of predominantly female creators that have intervened in the virtual sphere. Typical portrayals are gestural forms of imagery, simulated role-plays, and soothing sounds such as gentle whispering, nail tapping on various surfaces, brushing, and touching. All are closely related to the development of ASMR's video culture aesthetics.
However, those picking up on its popularity are not just focused on the brain tingling
It's no surprise that in 2010 Allen coined the term 'Autonomous Sensory Meridian Response' in her effort to tame and disambiguate its increasingly eroticized outlook among its community advocates.
The social and scientific ground to unlock more empirical understandings is still scant – a frequent spokesperson is Dr Craig Richard, author of the ASMR guide Brain Tingles (2018). Finding himself a susceptible ASMR candidate, he contemplates on its rising virality in his 2020 TEDx talk 'The Whispered Revolution of Relaxation'. To read into some of its unstudied traits, the research he takes on shows that ASMR is built on all those instances of the real world where you receive 'positive personal attention from a kind and caring individual'.
Nursing comfort, teachers telling stories, whispering with best friends or getting a haircut are examples of such memories and moments of attention that trigger ASMR for certain people, according to Richard.
Long stretches of ambient noise
However, those picking up on its popularity are not just focused on the brain tingling. For some, like the Berlin-based artist Claire Tolan, it has also turned into an investigation of the genre's artistic potential. In an interview on the website of ASMR University, founded by Richard, she explains: 'My interest in ASMR was sparked, actually, not by the tingling, but because I had worked with field recordings in the past, and I liked the long stretches of ambient noise.'
Through her works – such as the radio piece installation Always Here for You at the 2015 CTM Festival – Tolan considers themes like privacy, intimacy, and (self-)surveillance, as well as real and imagined interactions: vital personal experiences, discoveries, and caring that go beyond a dubious oddity of some sort and call into question the critical discourse around ASMR.
'I'm primarily interested in how ASMR videos attempt not only to provoke the tingling sensation, but also serve as a kind of fringe therapy for maladies like insomnia, anxiety, and depression,' she says in the interview. 'The soft, soothing sounds somehow serve as a worthy vehicle for exploring different configurations of hospitality, groupthink, ritual, privacy, and intimacy, as well as complex technological, psychological, linguistic, and economic subjects.'
Sincere listening
Tolan's work with ASMR seems to extend a support system to a number of artistically thoughtful inquiries. An example of this is Whisper Fold Brush, a recent ASMR performance by Danish electronic composer and sound artist Sofie Birch and visual artist My Lambertsen (aka Slør) that took place last month in Odense.
The performance appeared in the curated programme of Akademiet for Åben Lytning (the Academy for Open Listening), a collaboration between the local institutions Odense Music Library, Kulturmaskinen, Funen Art Academy and Momentum Music. Artistically led by the collective Forlaget Kornmod as a grassroots movement for listening exchange, the first semester of the academy's program, ending this week, is set to serve as a space for concerts, experiments, lectures, and workshops for what they call 'new Danish sincerity and fleeting currents in Danish music'.
In Whisper Fold Brush, the peculiarity of ASMR turns into a more nuanced state-of-the-art revisioning
How do they do this? Well, only by becoming a member does one get access to the full spectrum of the programming, alerted to secret rituals and activities – all of which may form part of a need to feel safe and to stay somewhat obscure. When approached for a comment, Mads Led Behrend Roth, project manager at Odense Music Library, described it as 'a space for curiosity and radical openness, a context from which to build communities'.
Whisper Fold Brush, however, was announced in public and ran in two cycles on 5 November. The event – scheduled shortly after the new corona restrictions were announced in late October – accommodated less than ten attendees inside the music library with a small setup.
Tactility and abstraction
Upon arrival in the darkened room, booklets, Micro LED flashlights and headphones are distributed, along with instructions for usage of each item. When settled in on the mattresses on the floor, the audience is able to follow the performance through a graphic score guide inside the booklet where nine objects – an egg tray, nails, a brush, a notebook, a water bottle, tape, paper, slime and a rice cookie – appear in the same order as in the performance.
The 40-minute piece begins as Sofie Birch's voice whispers through the headphones with her familiar shades of reverie. Soon after follows palpable compositions involving each object, based on tactile sensations and actions that strongly derive from ASMR sound qualities.
The sounds – rubbing, tapping, brushing, scrolling, splashing, peeling, folding, tearing, crushing – assigned to each object are heard in their concrete essence as Birch plays with each item through a condenser mic that wraps around an Aston Halo reflection filter. With this she records and loops a fragment of the sound and manipulates it through Ableton Live plugins and effects throughout the performance.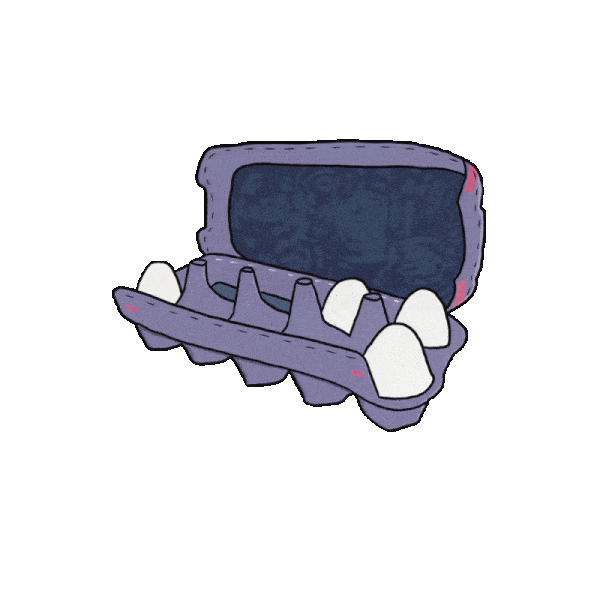 Simultaneously, My Lambertsen picks up the same object with a setup of GoPro cameras and lights in different colours that connect to a computer and a MIDI controller, morphing each object through layering, zooming and mirroring techniques, and projecting them on two walls.
With their complementary costume dresses, Birch and Lambertsen infiltrate the overall sculptural aesthetic of the performance and visibly unite more seamlessly within the setup and experience around the piece.
In order to create a pronounced listening awareness of the physical objects, the performance is transmitted through wireless headphones, using the body and head as a room, rather than the library, to emphasise the closeness of the sound. Throughout the performance, you can see the sources of the sounds as actual objects held in Birch and Lambertsen's hands and at the same time feel the objects' transition into abstraction.
A nuanced revision
After the performance, the two artists talk about their desire to collaborate on common grounds through animated real-time visualization and recorded sound. The ASMR genre, as a playful bridging concept, had become intriguing to work with in this hybrid sense, they let us know. It felt close to their existing practices involving object manipulation and exploration, and close to a new, complex, tactile landscape of senses and the psyche.
In Whisper Fold Brush, the peculiarity of ASMR turns into a more nuanced state-of-the-art revisioning that stimulates the imagination through the performance's acute experiential sensitivity that takes an effort to establish – in sharp contrast to how ASMR is used by many online, influenced by its naïvely erotic and, for some, irritating attributes.
While acknowledging almost everything that has made ASMR a phenomenon, the nature and offbeat setting of Whisper Fold Brush is more methodologically situated and carefully constructed within a wondrous demystification that gets your attention as a listener and viewer. It encourages a poetic projection of the physical objects as a distinct artful experience of an ambiguous reality as the piece unfolds through close contact with everyday things and experiences.
In that respect, there is a connection to Dadaism's exuberant adventure of the altered ordinary object or the dreamy worlds and juxtapositions of Surrealism. At the same time, the performance also works as a ritual preparing you for an adventure and a possible future for connectedness and intimacy, where the familiar boundary between ourselves and our environment feels softened – as an affectionate space of awareness and attention.