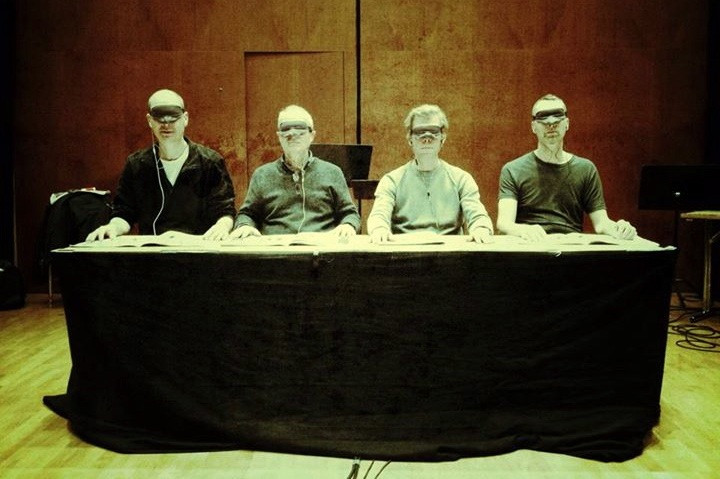 Foto af Kaj Duncan Davids 'No News Good News'
Gageego!
Provocative works from Gothenburg's new music ensemble but Nordic 'new simplicity' might still have the most to say
Koncert med Gageego! ensemble i Stenhammarsalen, Gothenburg Konserthus 22.11.15
Perhaps the most complex, fascinating, revealing and potentially provocative sounds you can hear at a performance of acoustic music are those that emerge voluntarily or otherwise from members of the audience. As Kaj Duncan David's No News Good News (2014) got underway in Gothenburg, the first piece after the interval, titters started to emerge from the back of the Stenhammarsalen. Some of the titters became guffaws.
I feel sure the British-Danish composer David fully expects his piece to provoke laughter. But I'm not so sure how the sound of that laughter fits into the tight, binary partnership between physical gesture and sonic product on which much of David's work hinges, particularly when most of us couldn't see who was laughing. No News Good News is scored for 'four people at a table reading newspapers' but the nonchalance of that description conceals the rigidity of the form and the execution. Strict rhythmic patterns dictate when and in which direction the pages of those newspapers are turned by the (initially) blindfolded musicians; the spillover commercial music we hear, presumably but not necessarily from the headphones worn by the musicians, is a decoy. That faint music aside, you never hear anything that you don't see being manually produced or cued – including the foregrounded recorded sounds heard later on.
A muddy sonic footprint on David's pressed, clean newsprint
The sound of a newspaper page turning, familiar as an everyday banality, becomes unfamiliarly musical through repetition and choreography until the mind starts to cleave to certain elements: the articulation of a page turn, the speed, weight and mood of it (a page turned in disgust or a page turned in anticipation?). But it was the musical-visual discipline of the four musicians – instructed in the score to keep 'fairly still' and give the suggestion that they are indeed reading their newspapers – which combined with the banality of the act of turning pages to induce the laughter. David probably expects a momentary audience reaction when the musicians raise their newspapers, each revealing one word of 'WET / MAN / BITES / DOG'. But before that, it seemed to me that the only problem with the laughing was the noise it made – a muddy sonic footprint on David's pressed, clean newsprint.
Bold choices
We knew from that performance that Gageego! hadn't shied away from the tough stuff at this Sunday evening concert – either in terms of performer execution or audience expectation. Elsewhere in Europe the 'sound art verses composition' debate is still droning on, even rearing its head at this year's Turner Prize for art in London. Pitting such known names as Ore and Steen-Andersen against composers who don't think so much of 'instruments' in a traditional sense is a good way of rendering that debate as irrelevant as, perhaps, it should be.
But instruments were important here, not least given the audience – fair few of whom seemed to be overspill from the Gothenburg Symphony Orchestra from which Gageego!, with the Gothenburg Opera Orchestra, draws its players. The line-up drew on the strength of the GSO's principal flute, Anders Jonhäll. He opened the concert alone – or almost alone, steering a confident course around Anna Thorvaldsdottir's In Two Different Places (2003) for flute and tape. But there was another element here, too: small amplified noises from Jonhäll's lips and mouth. His flute played alone in the clear, tonal patterns that framed the piece and lent it a symmetry approaching something like sonata form.
The flute is becoming a problem instrument for Nordic composers of the 21st-century perhaps in the same way as the organ did for English composers one hundred years before. The instrument tells listeners of the human breath that powers it, and the increasingly prominent and gestural treatment of that breath – ideas of tonal decay but also of the pitch-less sound of wind, its sparseness and purity – are in danger of becoming a derivative cliché. Thorvaldsdottir's piece appeared to short-circuit those problems in its use of a tonal idiom and clear, strong shapes in those framing gestures – noises a modern flute is designed to produce as a counterpoint to the tape and breath effects.
In Two Different Places does speak of wind in the context of landscape and meteorological brutality, elements that have become such a tired gesture in other solo flute works. But that interest in a particularly bleak landscape has long been present in Icelander Thorvaldsdottir's musical personality and in her hands, and with her astute tonal context, it proves more evocative than hackneyed. Niels Rosing-Schow's solo flute work …Aus Atmen… (2014) isn't so individual and brings back the same old problems of habitual gesture and obsession with expanding technique; the composer in cahoots with the performer, codifying their partnership at the expense of anybody else. Rapid alternation of air and pitch sounds in one extended passage is of limited interest to anyone but a capable flautist and the composer who had decided to test or push that flautist's technique.
The weaving counterpoint of Sørensen's closing movement is delicious: the submerged reeds of the river twisting around Johanna Persson's fragile viola
An audience knows when a piece is more conscious of its own points of technical interest than it is in the act of communication with them, the third party, which is why Bent Sørensen is almost always worth hearing live whether or not you subscribe to his particular neo-Romantic aesthetic. The Lady and the Lark (1997) prompted more laughter from the audience as Per Sjögren tested a little glissando on his slide whistle when conductor Gunno Palmqvist invited the ensemble to tune. Another instrumental curiosity in Sørensen's score is one of his trademarks: each musician is asked to play an extra instrument, in this case a wood block, in addition to his or her own.
The piece is a miniature viola concerto itself built of miniatures: passing fragments, contained insect-like detail, movements that disappear before they've even got going. Often Sørensen's beautiful stasis – perhaps the floating body of Tennyson's The Lady of Shalott which induced its creation – is tossed by some external force and the effect is so intensely musical as all the component parts are blown as if by the same gust. The weaving counterpoint of Sørensen's closing movement is delicious: the submerged reeds of the river twisting around Johanna Persson's fragile viola.
New (old) Nordic Simplicity
Sørensen's way with counterpoint – both in a musical and chronological sense, the past is for him always a shadow cast by the present, perhaps even vice-versa – is a good counterpoint in itself for the 'complex minimalism' of Rolf Wallin. There's a pinhead acuity and focus to Wallin's ensemble works, no matter how much is happening in the score. Ning (1991) for oboe quartet often homes-in on a rigid tonal centre and does so via tight rhythmic gameplay and patterning. He has some hallmarks rooted in Nordic music history: the sustained woodwind note ending in a sort of coiling flourish and his sense of strain giving way to freedom or flight might or might not have links to Jean Sibelius.
In Ning, that last feature came as the piece reached an apex of pain and distortion before the strain that kept that tension bubbling away suddenly disappeared, out of reach – gone but still longed-for. Wallin's ensemble was left to settle on a unison, drop down a semitone, and then flop into silence altogether, powerless. This was a strong performance from oboist Geoffrey Cox and the ensemble, which was conducted by Palmqvist (that tells you something about the detail in Wallin's writing). More and more I hear this composer's music as highly individual and evocative. It can be whether or not you choose to familiarize yourself with his extra-musical inspirations (in this case, David Grossman's novel See Under: Love).
If there's a 'new' new simplicity washing over Denmark and the Nordic countries, Simon Steen-Andersen and Cecilie Ore might be viewed as two of its chief investors. Steen-Andersen's Amid (2004) consists of a series of upward glissandi, separated by silences of varying lengths, played by violin, piano, flute, guitar, cello, clarinet and a desk set-up to convey two different abrasive 'slide' noises.
It's tempting to point to the particle-accelerator opening of Carl Nielsen's Sinfonia Espansiva when considering the tension created by the gaps between these glissandi. First, a process of habituation ensured those consistently pitched glissandi became our friends. Second, the silences in between grew in purity delicacy until I could hear my pen moving across my notepad. When they reached a peak of tension they were filled with Andersen's tiny gestures: the hesitant playing of a clarinet note, a violin harmonic, the sound of the flute's mouthpiece being removed on the beat, keys on the piano pushed down as if by the thoughtless placing of a weekend newspaper on top of them.
There's intense discipline in the way Steen-Andersen sets clear parameters for each of his instruments, even more so in his use of empty bars, resulting in a sort of virtuosic silence which Gageego! alone created. It takes some focused thought about sound and movement to underscore the silence and stillness that surrounds that sound and movement. Steen-Andersen proved especially wise in his judgment of that balance here, locating the air that fuels what he describes as his 'in-breathing' ['in-andningens'] music.
Cecilie Ore's Praesens Subitus (1988-9) for amplified string quartet bears some relation to Steen-Andersen's Amid in its interrelated plotting of time and space and the economy of the gestures it uses. Initially it appears to operate on only two volume settings: a veiled piano heard on light tremolo strings (sometimes releasing the harmonics) scurrying like insects, and a harsh forte in which the instrumentalists again travel up and down the fingerboard in glissandi, at one point moving down those fingerboards in a passage of wrenching strain. But the level of intensity remains constant, even in the heavily pronounced pizzicatos games that follow.
the principle of 'new simplicity' rooted in Denmark might be proving its resilience in a process of constant reinvention
Ore's often savage sound world puts me in mine of the stuttering vocal language of Salvatore Sciarrino, but she has her own way of making the music she writes break out from itself in fortitude or rhapsody, which stems most often from the discipline of the broader conceptual picture. Still more uncompromising and technically first-rate delivery from Gageego! who combined musical rigour with a willingness to casually address the audience and remove just the right amount of ceremony from a performance that needed plenty of stage entrances and exits. Ultimately, the silence of the audience in Preasens Subitus and Amid spoke as loudly as the laughter that went before it.
We should be cautious when talking of national styles in music, but the clarity and economy of notation that has been a strong characteristic of new Scandinavian music for the past few decades is far from receding. Perhaps even, as the new music aesthetics of culturally neighboring countries (Finland, America, the UK) show some literal signs of growing texturally and conceptually thicker, the principle of 'new simplicity' rooted in Denmark might be proving its resilience in a process of constant reinvention. In this world full of noise, I'm all for that.