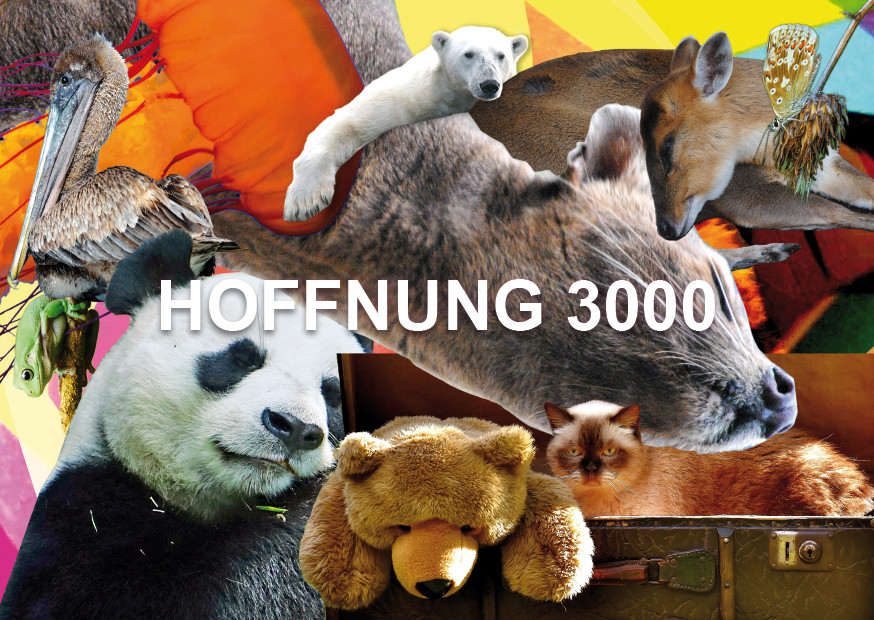 Hoffnung 3000.
Hoffnung 3000 – Experimenting with an Anonymous Community
Hoffnung 3000 is a festival that asks how a festival would behave, if it organised itself - or, rather, if 30 anonymous participants would curate a festival, communicating with one another only through animal avatars. Hoffnung 3000 took place in Berlin on 24th-26th August, and Shanti Suki Osman went along to see what the animals came up with.
Reportage from the festival Hoffnung 3000, Berlin on 24th-26th August.
The various Berlin arts and cultural scenes are experiencing an exciting moment – we are bleeding into each other. Operas are taking place in art galleries (Swan Song at nGbK), panel discussions are taking place on dance floors (Reclaim The Beats Festival) and gardening is taking place on the radio (Datscha Radio 17). Whether this happy merging is a result of artists and cultural workers cleverly navigating changes in funding criteria since 2015, is relevant only to a point – the fact is: Berlin eyes and ears are opening wider than before to look, learn and grown into new spaces.
Curating in a horizontal hierarchy
Hoffnung 3000 was a self curated 3 day festival of art of theory. The idea was to experiment with having 30 participants, all of whom curate the 3 days themselves as a non-established internally anonymous collective. They communicated using an online platform and were represented by animal avatars. This also meant no one knew who was performing or organising, with clues being given by tech requirements and other requests, I assume. The platform was to be a digital place to start creation, share resources, reserve items, organise performances.
But why it had to be anonymous, I didn't understand. Anonymity removes prejudice, I was told. It means I won't read a performer's name and make a judgement about whether I will attend or not. It took me a minute or two to process this idea: I thought of orchestras that audition performers behind screens, British female writers from the late 19th century who used male pseudonyms and my own work as a radio maker and my unknown audience. As a result of these combined examples of anonymity - for better, for worse and for survival - I decided I was definitely intrigued as to how this would play out.
The team behind Hoffnung 3000 – Sam Andreae, Andreas Dzialocha, Malte Kobel and Laura Weber – insisted on attempting a decentralised approach to the festival and wanted to keep the hierarchy as horizontal as possible. I will not start a debate as to how successful a horizontal hierarchy can actually be, but the team did concede that giving total freedom would result in people recreating norms and hierarchical power structures. So they did indeed choose the 30 participants, who would then work as collectively as possible to curate the 3 days. I am a big fan of people who accept things might not work, which indeed the team did, and so I gladly went along to the opening day.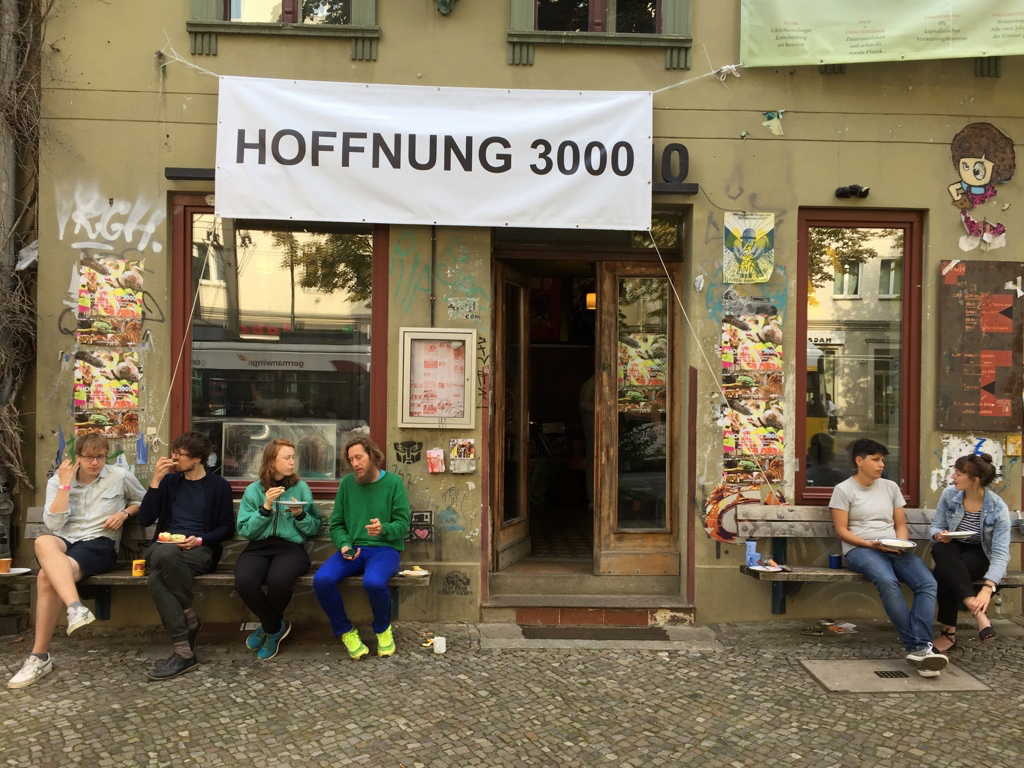 Photo credit: Malte Kobel.
Walking up the Tokyo Tower by Skype
I walked into the bar at Klangkeller (what I remember as Licht Blick Kino back in the days of Salon Bruit) and it felt like I had interrupted the end of brunch. I was ushered into the back cinema and felt bad having to use the light on my phone to find a seat that wasn't already occupied. But I soon found that this smart phone intervention wouldn't be as frowned upon as originally thought, as we ended up looking at smartphones on screen for a lot of the performance.
The audience in that dark cinema on a sunny afternoon in Berlin was watching two female artists walk up the Tokyo Tower. We were connected via skype – one of the artists held a tablet/smart phone through which we experienced the walk visually. We climbed up the 600 stairs with our eye-level at around 1 metre high, due to where the device was being held. Our eyes matched the direction of our protagonist most of the time, but would occasionally veer off to the sides, out of the windows and even onto the night street. In this way the static audience just over 5,500 miles away experienced a somewhat focalised visual narration of this walk.
The artist who wasn't filming had a smart phone too. She would occasionally speak a comment or sentence in Japanese into her phone. We would then hear an English translation and the artist would then make the written version of the translation go full screen and hold her device up to the filming/streaming device for us to see. These inverted auto cues, appearing only after the words had been spoken, punctuated the movements of the protagonists and the audience's viewing. It felt like both subtitles and commentary, both pre-emptive and retrospective. This experience of multiple and variously layered realities characterised the whole piece for me, and the repetition of the terms space-time and real-time whilst experiencing this Tokyo night in real-time on a Berlin afternoon allowed everyone to enjoy the confusion and excitement of trying to make sense of it all.
The skype connection was performing its own freezes, disconnections, glitches and pixelation throughout the 2 hour filming, a beautiful comment in itself about efforts to understand different lived experiences and realities. It doesn't always run smoothly and requires immense perseverance. I bore this in mind whilst remembering the aims of the festival.
What does anonymity mean when everyone is part of the same scene?
This 'group viewing' was as meditative as group listening, with the merging of senses mirroring the merging of realities. Footsteps and shuffling feet on the steps and camera clicks, distant street sounds and nearby speakers playing kitschy music, voices of tourists and children surging in and out of the stream, snippets of seemingly 'backstage' conversation between our two protagonists with occasional performed speaking directed at the audience (who are still sitting quietly in the dark). I had to think of Ultra Red Listening Sessions, but this time as well as listening closely to sound inside the tower, we were also watching closely, and asking perhaps, what is audibly represented and presented in what we see, and indeed what is visually represented in what we hear.
I left the cinema confused and somewhat enlightened.
The confusion continued for a while after I left late evening in Tokyo and entered early afternoon in Berlin. The audience members and the participants – i.e. the audience members who were seemingly all participants and performers and all knew each other – were either huddled around laptops updating their own event on the anonymous platform, or checking to see what new events had been included since the morning. I mused but didn't dare to ask anyone the question: what does anonymity mean when everyone is part of the same scene? Never having met a particular person and only knowing their first name means very little if you already know you have the same vocabulary, point of references and general topography of concert going (Ausland, KuLe, MaerzMusik, Darmstadt, Klangkeller, Spektrum, etc.). But I kept the faith.
Institutes and margins
I had already pencilled in the GRiNM presentation, so after a quick coffee I went back into the unsuitable cinema space to listen to Katja Heldt present her ideas, plans, research and anecdotes on Gender Relations in New Music. Gender Relations in New Music is something between an activist collective and research group which was formed during the 2016 Darmstadt International Summer Course for New Music. Following a three-day workshop held at MaerzMusik in March of this year, the idea was to continue developing strategies and collecting ideas in a three-part series at Hoffnung 3000, with a specific focus on interventions to be carried out in Darmstaft 2018, partly in conjunction with a commissioned composer who will generously lend his own allocated space and time slots (money too?) to accommodate a guerilla action from GRINM. Last I heard, the idea was to distribute flyers containing statistics about female composers or lack thereof. Go for it, I say.
It felt good to be in a room of people dedicated to forming strategies to address gender imbalance in contemporary music, as this is one of the things that drives me in the fields of radio, electronic music and education in Berlin. It was certainly a brave attempt, but there were some frustratingly entry-level comments and questions. There was the classic eye-roll rhetorically-meant question: 'But why would you want to integrate into big old stuffy institutes like Darmstadt, isn't it better to create your own spaces?' I was recently asked a similar question at Copenhagen University, during the conference, Out of Space. I was presenting an interview-based paper on the resistance, survival and empowerment techniques of women* in the electronic music scenes in Berlin. I was asked by a fellow presenter, a woman who claimed to know nothing of the topic, despite having just presented on the sexism and stereotyping in opera in early modern Rome whether it wasn't more fun, more exciting and generally cooler to exist in the margins. I answered then as I did in August at the old LichtBlick Kino on Kastienalleallee, the headquarters of Hoffnung 3000: no, no it isn't. As free and romantic as it might seem to put on illegal shows under bridges, representation in and acknowledgement from institutes is a much better position for us to be in. We could at this stage open up the plethora of arguments for and against institutions, but maybe we can temporarily shelve them and consider that sometimes we have to rage from within the machine to affect some sort of change.
A group gadget improv and a sofa-salon
I hung around at Hoffnung 3000 HQ for a couple of hours and caught an hour of a durational group improv session in the Klangkeller, which felt very much like a group of friends hanging out in someone's cellar playing around with their musical toys. And indeed it was. One of the participants had booked the whole space for 24 hours and simply invited friends in to play and perform. Whilst I was there I heard booms, squeaks, scratches and peeps from the gadgets spread across a table of wires and buttons, delayed and distorted with interludes of what can only be described as 1970s stoner rock. A male performer was focused on a laptop screen and a woman was playing with the gadgets on the table, and it really was a lot of fun to experience. It felt like a live radio show performance as opposed to the typically male dominated gadget fetishism of sound studies students in their early 20s. And would I have gone to this if I had simply read the description and the name? Maybe not. Due to the anonymity I had no expectations and enjoyed myself. Game point Hoffnung 3000.
At about 7pm I hopped on the tram to an address in Wedding, a district just north of Prenzlauer Berg where Hoffnung 3000 HQ, hub and brunch bar was. A Living Room Concert was all that was advertised. I arrived on the dot at 7.30pm momentarily forgetting how late concerts actually start in Berlin, especially those in such an informal setting. We were served tea, invited to take our shoes off, shown sofas, cushions and rugs to sit on. I started to wonder if the salon concert tradition had sort of come full circle – moving from the origins of chamber music, morphing much more recently into the established Sofa Salon movement of secret house concerts for international singer songwriters, now becoming a place for experimental new and contemporary music. As I sat down on said sofa I was faced with a projection of cctv footage of a town square. The woman who had organised the concert, who I knew only as Klara was live streaming the cctv footage of her home town, Halmstad, Sweden. Once again I was confronted with real time, space time and simultaneous existing realities. Berlin, Halmstad, Tokyo - it was wonderfully ambiguous and there was no sound, so I went through my Ultra Red-inspired questions again. Group viewing had again replaced group listening, and this time I felt better practised. What is the sound of the bus stop? How is the sound, which we can't hear, visually represented…?
The sofa-salon-living-room-concert was comprised of three performances, two of which seemed to carry the themes of my day's experience almost too perfectly.
Antonia ('I don't even know your second name', stated Klara, whose living room it was) sat in front of a laptop facing the audience of about 20. We heard a recording of a conversation between herself and a female friend with a British accent. The conversation, which was seemingly banal, meant to highlight their differences in accents. Antonia simultaneously transcribed it and next to her was a projection of the 'script' she was writing. The script, or score, was produced from the music, the words, and again I was reminded of the inverted auto cues from the Tokyo Tower stairs walking. The conversation was threaded together with anecdotes (monologues by Antonia) about bunnies and bridges, which were not transcribed, leaving the audience to listen to the stories and look at projected photos. As a mixture of radio play and language-learning exercise it was extremely charming and entertaining.
Klara, whose home town we all had just watched in real time for the past hour, played next. Klara played a beautiful and poetic set spanning cities, languages, genres and, yes, times and spaces. She starting by playing field recordings from previous stays in Berlin – a busker singing in the underground - and followed this with alternate readings and songs with radio mics and grunge PJ Harvey Rid Of Me-era guitar. There is a prose piece by the Berlin-based Turkish-German writer Emine Sevgi Özdamar called Mein Berlin (My Berlin), about everyone having their own personal map to the city in which they live - and that is exactly what we were shown in this living room in Wedding. Klara read lists of recipe ingredients in German, local places to visit in English, poems in Swedish. She included lists of current international political issues and places in Berlin that are known for exploring current trends at the intersection of art, philosophy and politics, such as the gallery Savvy Contemporary and ICI Berlin Institute for Cultural Inquiry. I could imagine her riding through the city to these locations to attend talks and discussions on intersectional justice or decolonial feminism. I was moved by the performance and the journeys that Klara was making in my mind, and again struck by the idea of simultaneous existing realities. The everyday and international spaces were mixed with the recorded and live music, pop music actually, and wrapped together with lists and poems and thoughts.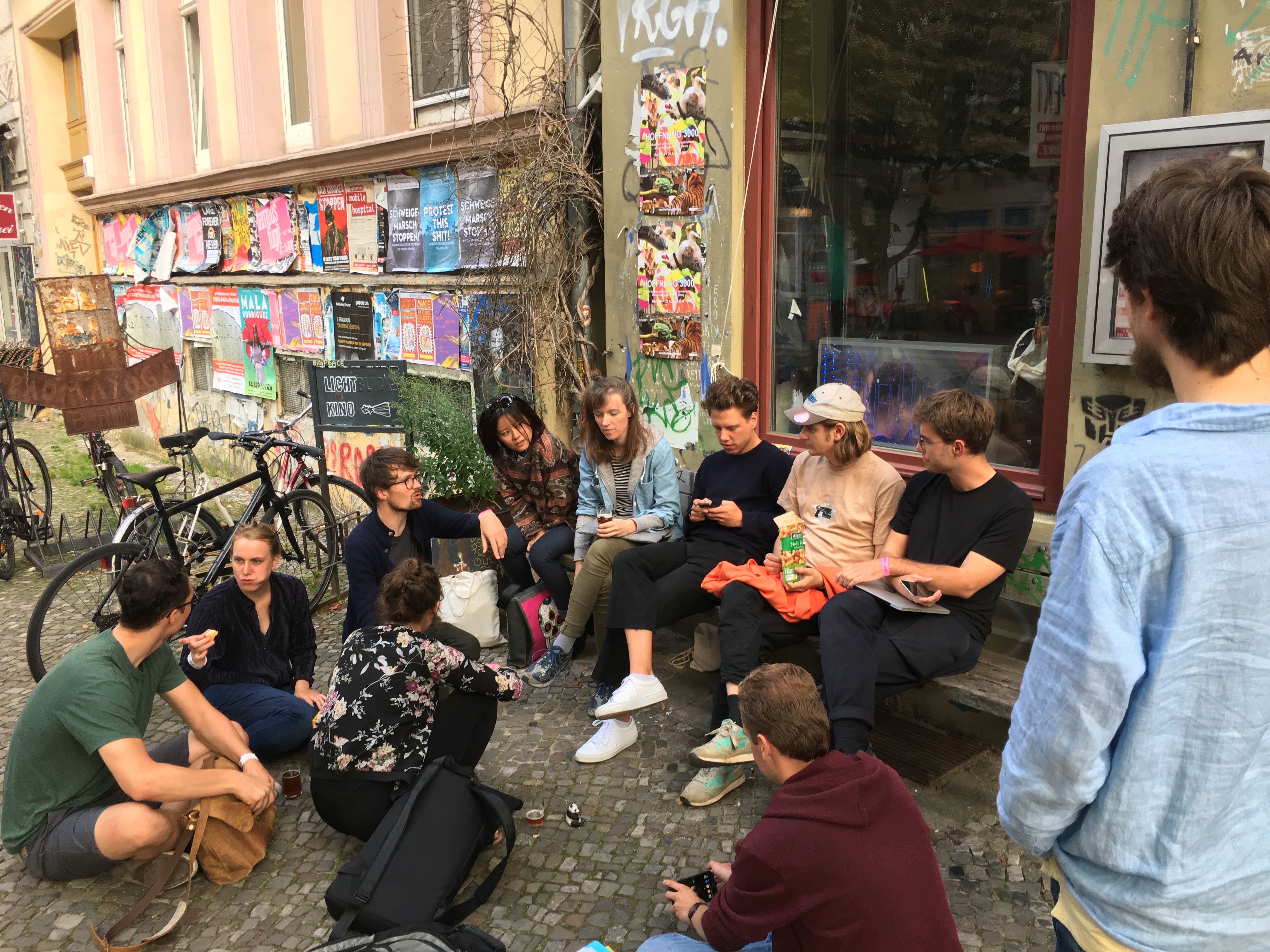 Photo credit: Rodriga Constanza.
The anonymity myth
The performances I saw at Hoffnung 3000, with the exception of the 24-hour jam in a basement (which didn't seem to need an audience), were more like exercises in archiving than sound pieces and music. It was an array of recording, collecting and re-telling narratives, somehow centring the word – spoken or written. This begged me to ask: was I even at a music festival? According to the team behind Hoffnung 3000, no I wasn't. The 30 participants who self-curated this festival all paid 25€, not to perform, but to take part in the experiment, the process, and to learn from it and contribute to it. If that is the case, I would like to end with some friendly, but firm myth-busting, as a result of my own participation:
Anonymous participants means people won't pre-judge: well, no, not exactly. Two friends of mine who are veteran performers and concert-goers in the Berlin contemporary music scene refused to accompany me to the festival, citing frustration and arrogance at being forced to buy a ticket before accessing information about the performances and locations. It's kooky at best, and dangerously elitist at worst. Considering the good intentions of the festival and the willingness for openness of the 4 friends who brought the event into being, I don't think this was their desired effect. In all fairness, they seemed wary of whether the anonymity of the participants would indeed ensure a better level of equality in programming events, so my question to the team would be, how can you tell whether it worked? Using a safety net of claiming it to be an experiment is fine, but experiments technically have hypotheses as well as expected outcomes. How do we test and measure either of these?
As free and romantic as it might seem to put on illegal shows under bridges, representation in and acknowledgement from institutes is a much better position for us to be in
Anonymity creates a safe space: well, no. It is diametrically opposite to the conditions of a safe space, which can't exist without knowing who is there and furthermore asking these people where they are coming from. Anonymity is also a position of power. We've seen footage of the reluctant neo-Nazis in Charlottesville who remove their white shirts and khaki shorts when they realise things are getting too serious. They have the power to make themselves anonymous. Their victims, with their non-white bodies, cannot.
In another sense anonymity means erasure and the removal of a lived experience. I do not think that the organisers of Hoffnung 3000 want to herald in a revised neo-liberal attitude of equality over equity, plus the focus on everyday narrative in the performances I saw seem to contradict this notion anyway.
Does that mean it is now incorrect to treat everyone exactly the same? Well, if we are working for increased gender representation in any music or arts scene - let alone a more intersectional approach of classed, racialised and geopolitical perspectives, something sadly absent from any of the discourse of Hoffnung 3000 - we need to see that we don't all have the same point of departure. We do not occupy the same real time, the same lived experience as each other. And yet there is a desire to overlap and merge – and I wholeheartedly encourage the team of Hoffnung 3000 to keep experimenting with ways to open up the field.