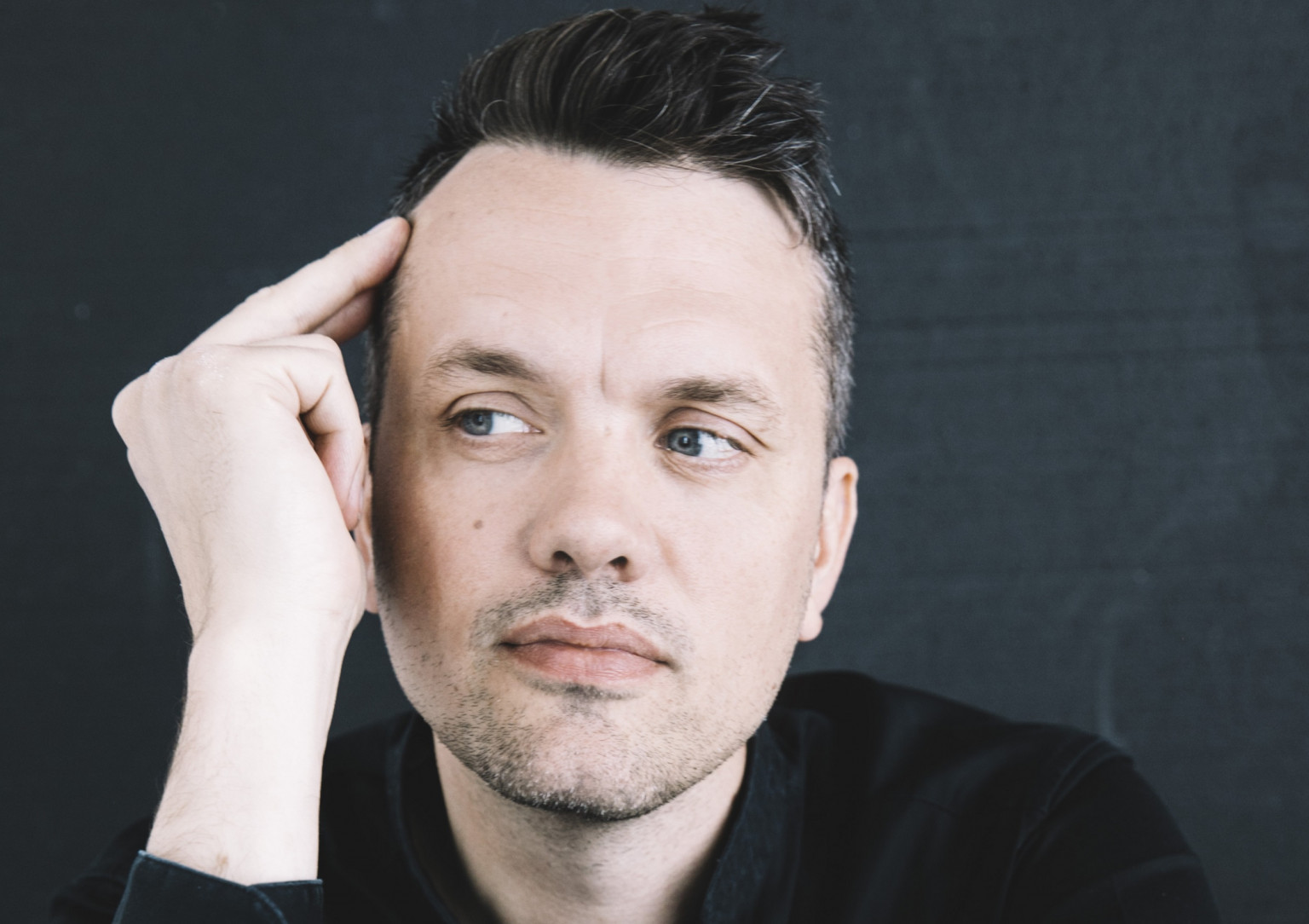 Daníel Bjarnason. © Saga Sig
'The hardest thing is to trust your material'
Next month, the LA Philharmonic will celebrate its centennial birthday with a new piece by Daníel Bjarnason that requires no less than three conductors. Is it fair to talk of a quintessentially Icelandic school in today's classical music scene? Yes and no, he says.
In October, Icelandic composer-conductor Daníel Bjarnason will be in Los Angeles, briefing three conductors at the first rehearsal for his new orchestral work From Space I Saw Earth. Gustavo Dudamel, Esa-Pekka Salonen and Zubin Mehta – the current music director of the LA Phil and his two living predecessors – will all conduct the new piece at Disney Hall on 24 October, celebrating 100 years of the best orchestra on America's west coast. 'I often come back to keeping things simple in my music, because there's more power in simplicity,' says the composer, talking about the score for large symphony orchestra and organ partitioned along invisible lines thus requiring three separate conductors; 'by simple, I don't necessarily mean simplistic.'
The piece, still in progress at the time of this interview, is clearly occupying some bandwidth in Bjarnason's brain. 'I'm relinquishing control to some degree, but at the same time I have confidence in how it will work, even if I don't yet know exactly how.' The score, he says, extends ideas adumbrated in its predecessors, notably the outer movements of the orchestral monolith Emergence (2011). 'It's about having one thing moving to different time scales. So you have a chorale – the same material – but moving at different speeds; described differently. It will stop, meld together, start again and dislocate.' A form of phasing? 'They each have their own tempo, but to some degree they wait for each other as well'; he breathes in, raises his eyebrows, casts his head back a little, and holds still for a second.
Upscaling
If the LA score is a technical riddle, at least it's apparently taking Bjarnason's mind off the prestige of the occasion. Or maybe he just takes life in his generously-proportioned stride. For our conversation, the altitudinous Icelander cycles over to my apartment from Valby (on a child's bike, 'which explains why I'm a little out of breath'), where he's on a housesitting break with his family.
Bjarnason was raised partly in Denmark by Icelandic parents, but now lives in Iceland where this September he became principal guest conductor of the Iceland Symphony Orchestra. It has been a busy few years for him. He won the President of Iceland's 2018 Bjartsýnisverðlaun Prize (for creative 'optimism') and three prizes at that year's Icelandic Music Awards. One was for his opera based on Susanne Bier's film Brødre ('Brothers') premiered by the Danish National Opera in Aarhus in 2017. It was nominated for a Reumert and the Nordic Council Music Prize, has been seen in Reykjavik and Budapest, and will continue to travel.
Writing to such a large scale, physical and narrative, 'changes the way you think about composing,' says Bjarnason. But he's been up to his neck in opera for years, conducting the likes of Tosca and Peter Grimes with Iceland's national company in Reykjavik. 'You have to be aware of so many different elements, each of them on huge scale. In the end it comes down to how attuned you are theatrically. I knew from conducting opera that any theatrical enterprise is full of compromise. You have to embrace that.'
'That's what opera is most effective at: telling you more than the words can'
For his first opera (he is already planning a second) Bjarnason chose a story that parallels a regular scheme in his abstract music: tension burning slowly towards rupture or release. He describes the process of writing as an exploration. 'Even now, I can hear in the opera where I really find my feet. You are getting to know your characters a little bit – what they do, how they sound, how they work within this world. There's a lot of tension between them in this piece. That's what opera is most effective at: telling you more than the words can.'
Yet Brødre is a text-driven theatre work, controlled by its narrative. 'It's its own universe; hard to relate to anything else I've written. At the same time, I recognize myself in every moment of it,' Bjarnason says. Is there nothing at all in the score that relates to the non-operatic works that surround it? 'I feel like plucking something from it would be impossible. I never felt I was getting caught up in some symphonic whirlwind – what happens to Thomas Adès, the characters carried along on this wave.' The conversation diverts momentarily to that other composer-conductor, particularly his 'hugely impressive' work for piano, orchestra and film In Seven Days (2008). 'I have admired him [Adès] since I started composing. But I quickly started to see that I couldn't do what he does, even though I was influenced by it.' There's a drop of that influence, surely, in the distorted passacaglia that is Bjarnason's Blow Bright (2013)? 'Maybe. You know … it is a passacaglia.'
What you are
'One of the hardest things about being a composer is really realizing what you are, as opposed to what you want to be or think you are,' says Bjarnason, in relation to the above point about Adès. 'I've been thinking about this recently: if it's possible to come to a realization about how you really compose and what ingredients you need, while keeping an open mind about other ways of doing things. Just so you can create in a way that makes you feel creative, and not struggle against it.'
Does he feel that way when he's writing? 'It's hard to talk about, because explaining how you write a piece is a little like explaining how you ride a bike. When I'm writing something abstract [without text], I often have a blueprint running underneath and that's how I think about it. So there's structure, scaffolding. When you build on it, that's when the creative fun happens. You can twist it and turn it.'
We can sense that structure's presence in some of Bjarnason's works. Not spelt out explicitly, but as an undertow; a gravitational pull underneath the music. Right? 'Maybe. There's often an invisible force – a chorale or a passacaglia that is exploded and then put back together. The important thing, the hardest thing, is to trust your material: to start with something that feels strong enough. It may be very simple on its own terms, but you need to have the confidence that it will flower; that it will bring you more than it might have suggested on the surface.' Emergence is a good example of that. So is the cello concerto Bow to String (2010) and it sounds like the new LA piece will be too.
'I get ideas from listening to things,' the composer says, 'from really reacting to sound.' Among those sounds are the various plug-ins he has explored in software – distortion, reverb and more – and recreated to distinctive effect using acoustic instruments. 'Delay and reverb are natural phenomena. Thinking about these things really excited me. In a piece like Over Light Earth, I was zooming into material, stretching it, imagining what happens inside the notes. I started to see those devices more like filters. Ligeti did this, using bandwidth filters to block out the entire middle register of the orchestra, for example. I have always felt the need to ground it with something. A melody or a chorale.'
Where you're from
Or a drone? Sometimes. Bjarnason's works may not be as quintessentially Icelandic as Anna Thorvaldsdóttir's, Páll Ragnar Pálsson's or María Huld Markan Sigfúsdóttir's – their works often anchored by rock-like pedal points and topped-out with transfiguring luminosity. 'I do have a relationship to that,' says Bjarnason, whose Emergence sits nicely with works by Thorvaldsdóttir, Sigfúsdóttir and others on the recent Iceland Symphony Orchestra album Recurrence (2017), which he conducted, the first in a triptych profiling new orchestral works from the country.
The album can feel like a portrait of a national school, an idea its booklet notes revel in. Bjarnason is dismissive of that notion to a point, suggesting the next recording in the series will include composers 'who don't necessarily fall into that category'. But almost in the same breath, he validates it: 'We did a concert at the Dark Music Days this year, and all the tempi were below 60. I think Anna's piece was the fastest, like 80 or something. That tells you a lot.'
'I could say "I don't want any more slow, droney music," but at the same time I think this is some of the best music that has been written in Iceland'
As chief exponent of new music on the Iceland Symphony Orchestra's podium, is he aware of emerging orthodoxies – wary of them, even? 'What am I supposed to do as a conductor? I can do something as a composer, which is to write my own music. But I don't feel it's my role as a conductor to control what people are writing, so much as to reflect what's happening in the best possible way. I could say "I don't want any more slow, droney music," but at the same time I think this is some of the best music that has been written in Iceland. I guess, in that sense, it does create its own school.'
He concedes there was 'an openness to working with other genres' that came naturally to his generation of Icelanders. It clearly feeds into that half-electronic, reverberating aesthetic. 'But that happened in America, too, if a little less in Europe.' The inclusiveness was 'radical', he remembers, 'it swung that way and will probably swing back. In the nineties we had this trend for everything being 'krútt' [the Icelandic word suggests something sweet or naïve], the very opposite to punk. You can point to a lot of Icelandic music around 2000 that falls into this category, Sigur Rós included. They mostly hate the label. It was a window in time. I was influenced by it, but it doesn't really exist anymore.'
Composer as collaborator
Emergence is a piece whose brevity and simple appearance can belie its enduring depths. Its orchestration is hypnotically beautiful, its structure beguiling. At its heart are slabs of chorale-like harmony that are charged with a glowing, nuclear power. Shards of harmonic light radiate from the work's inner core, particularly in the final movement when they appear as if from a blinding crepuscular source.
Emergence was a tough piece to write, its composer reports. It went through 'about five' different endings, two of which can be heard on the two different recordings of the piece that exist. 'I definitely have an opinion on when I'm successful and when I'm not,' Bjarnason says. 'Sometimes, you can only get that far in the moment – you look at it six months later and see.'
And sometimes, providence steps in. In the case of Brødre, the arrival of a replacement director, Kasper Holten, meant rehearsals were brought forward and began before the piece was finished. 'It was actually quite good, very good,' Bjarnason says. 'Kasper became very hands-on which was useful when we were figuring out how to end the piece.'
A similar process is underway with Bjarnason's percussion concerto, which was bumped from its original launch date last October, giving composer and soloist (Martin Grubinger) more time to work collaboratively on the score. Is this sort of collaboration more common these days? 'I think it is, but it happened more back in the day – think of Brahms and Joachim. Maybe soloists were bolder and more able to say what they felt. Martin is certainly like that.'
Working in film and writing for dance productions has further lubricated those tendencies in Bjarnason. He collaborated with the Australian producer-composer Ben Frost on music for the films Sólaris (2011) and The Deep (2012), soundtracks that have certain parallels in Bjarnason's creation of curated albums, which have allowed him to approach composing from a different angle (his score for the 2017 film Under the Tree won a Harpa award in 2018). 'It wakes up a totally different part of your brain,' he says. 'You go in and record stuff, often improvised, and then put it into software where you can work it over and over, slicing it up to a timeline.' Is it a fundamentally different discipline from composing into score? 'It actually helps you write notated music, because you can so easily get caught up in notation. Here, you're using your ears to work the music in a different way. It's still composing, just another method – one in which you chip away rather than build up. I hope to do much more.'
And he will. A new song cycle for Crash Ensemble and the Swedish singer Mariam Wallentin, co-commissioned by the LA Phil, will be created using similar methods and will result in an album 'that will not sound the same as the live project.' Also on the to-do list is a new piano concerto for Víkingur Ólafsson and a violin concerto for Leila Josefowicz. Both musicians will be involved in the process of composition, but the buck stops with Bjarnason. 'There comes a point when you just have to sit down and write the thing – on your own. Everything starts with one note. Even an opera.'
Omtalt i artiklen