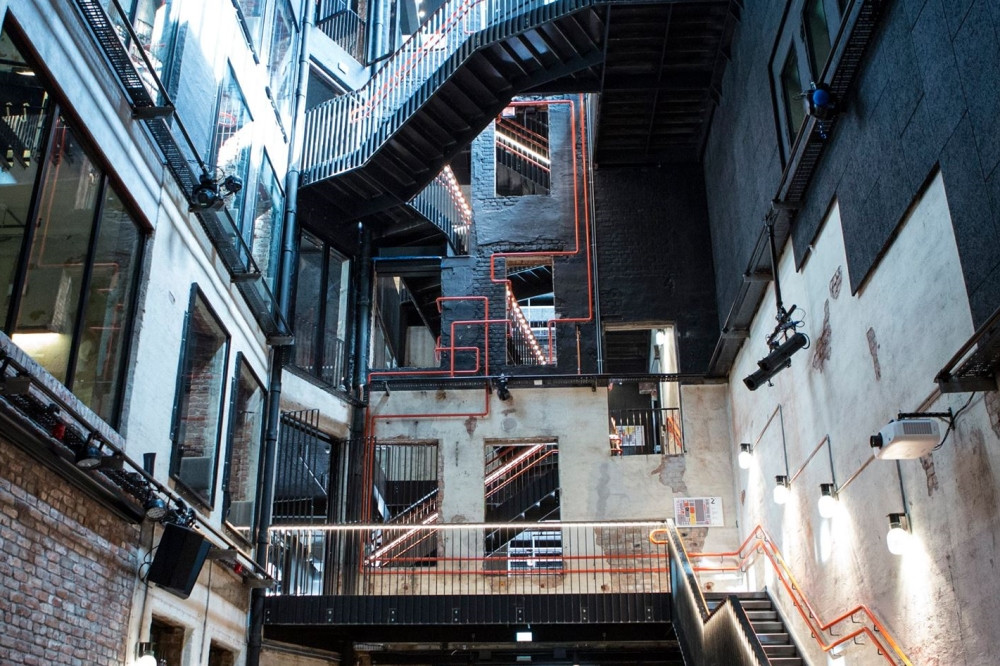 Copyright: Henrik Beck / nyMusikk
Inside the notes: Only Connect 2016
How to make a festival audience see and listen in new ways, preparing the stage for poetic loons and tripped-out roller coaster rides. Andrew Mellor writes from Only Connect in Oslo.
Review of Only Connect + Tectonics, May 20-21 at Sentralen in Oslo, Norway
At around 6pm on Saturday – just as the weekend-long Only Connect Festival of Sound in Oslo was dipping into its inevitable second day, late afternoon sag – Christian Marclay took to the stage of the small chamber music hall at the city's new arts centre, Sentralen. With harpist Rhodri Davies, cellist Lene Grenager and conductor Ilan Volkov (here on violin), Marclay presided over a 40-minute improvisation apparently founded on the traditional Saturday afternoon activity of searching for a lost implement in your prohibitively junk-filled cellar.
Marclay's stage was strewn with furniture, kitchen equipment, piping, tubing, an upturned bicycle, sheets and chunks of paper, wood and metal and all manner of objets trouvés (though nothing that strayed beyond the realms of domestic detritus). Sometimes he'd gently let go of a lamp stand, letting it fall; sometimes he'd attempt to fish out an implement from the other side of the stage using an comically bendy, luminous rod. When he'd finished with an object, he'd simply toss it aside, allowing the resulting 'klang' to be bestowed upon the discourse, its ripples inducing a response from the surrounding instrumentalists.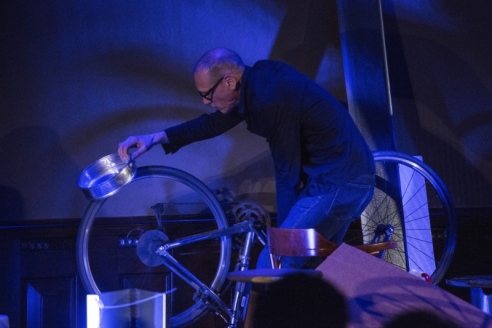 Christian Marclay performing. Copyright: Henrik Beck / nyMusikk
There was a ludicrous beauty to all this. Marclay was so precisely and organically aware of when a chunk of steel or a roll of giftwrap should be called upon and his instrumentalists were careful enough with their ears to be able to hear and then unlock the music from the sounds they made. But that doesn't take a musical genius; more than anything, Marclay's show was theatrical and funny – the work of a provocative, poetic loon more intent on mocking any notions of musical progression than spearheading them (even if he found some beauty along the way). So why was nobody laughing?
Lang's breathing harmonium
For a few reasons, I suspect. Perhaps the time of day (there was plenty of chuckling five hours later when Rhodri Davies and Richard Dawson presented their keening double act Hen Ogledd) but maybe, also, because 2016's Only Connect – with additional input this year from Volkov's peripatetic Tectonics festival – had a distinct sonic fingerprint, one that might just have slowed our mental metabolism and got the punters thinking about pitch and sound in a very pure, non-developmental way.
It was as if we were listening inside the notes.
In other words, consider the conditioning effect of what had gone before. Ahead of Marclay's jumble the stage's sole occupant had been the lonely harmonium of Austrian composer, improviser and organist Klaus Lang. Somebody pulled the room's heavy black curtains shut and Lang walked on to offer up his view of music as a limited series of notes plotting the passing of time.
In simple terms, Lang's improvisation consisted of tight clusters high and low that spread like bacteria (though not far beyond the span of Lang's hands or their apparently fixed high/low position) before retreating back to bare intervals once more. Lang's whole view of music as an acoustic object has a natural voice on the harmonium, an instrument with built-in hesitance and the sense of a creature's breath. But the clear, sustained harmonies of his music, rendered in the harmonium's relatively consistent texture across its range, resulted in some ferocious listening from many of us in the room. It was as if we were listening inside the notes.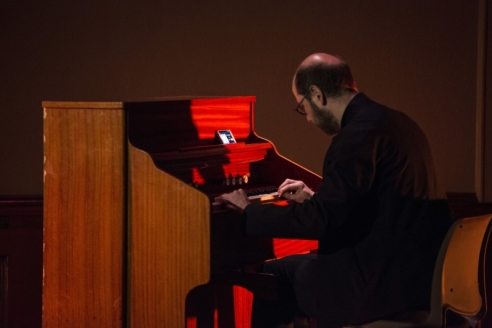 Klaus Lang at the harmonium. Copyright: Henrik Beck / nyMusikk
Microtonal parallaxis
And there was a precedent for those sounds, too. An hour before Lang, on the same stage, Ensemble neoN performed Catherine Lamb's work Parallaxis Forma. The title refers to the difference between two points from which the same object is viewed. The piece itself, for ensemble of winds and strings, vibrating wine glasses and the voice of Stine Janvin Motland (it's hard to imagine anyone else singing it), is an exceptionally cautious exploration of micro-tonality. Lamb carefully and delicately cultivates new relationships with intervals smaller than a semitone, but they're 'new' precisely because the basis – indeed the work's whole harmonic chassis – is largely formed of the tones and semitones our ears are already conditioned to.
This is a beautiful piece whose performance felt intensely settled.
The process is intensely patient and the scoring is ultra-delicate: all the musicians quiet and lucid, from saxophone and bass clarinet to violin and cello bowing lightly to deliver strange intertwined overtones. When microtones were eventually produced, it was as though they'd hatched from a tiny egg on which the room's collective gaze was fixed. This is a beautiful piece whose performance felt intensely settled. Would we have been listening as hard inside Lang's harmonium had this purifying work, in a truly special performance, not come before it?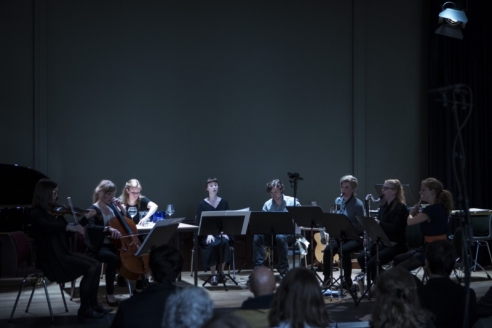 Ensemble neoN performing Catherine Lamb. Copyright: Henrik Beck / nyMusikk
Inside a circle of strings
And would our ears have been so attuned to Lamb's highly focused ideas had we not heard, the night before, Cassandra Miller's score for the strings of the Oslo Philharmonic, A Large House? If the sonic fingerprint I mentioned was a focus on notes themselves rather than where they were heading then it started at this opening concert with this, another piece that could be described as post-minimalist but whose simplicity instead suggested infinite complexity.
Miller describes A Large House as 'not moving – grounded in one place.' The audience sat inside a circle of string players who appeared, at first, to play downward glissandi from the same pitch but at staggered intervals. Sometimes, though, the glissandi devolved into single notes; sometimes single notes matured into glissandi. Conductor Volkov beat out rigid 5/4 bars which suggested we were heading towards some change or rupture.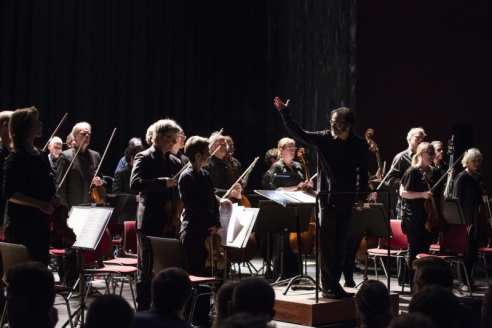 Oslo Philharmonic conducted by Ilan Volkov. Copyright: Henrik Beck / nyMusikk
But true to Miller's description, nothing happened. Nothing directional, at least.
But true to Miller's description, nothing happened. Nothing directional, at least. Though soon enough this sound – with the pitch shape of dozens of a plunging aircraft but the consistency and thickness of a huge waterfall – began to tease the ears. Random notes from opposite sides of the room would align to form a sudden passing harmony and send a shudder back up through the ensemble like an electrical charge. The temptation was to try to concentrate the ears intently in order to capture more fleeting harmonic moments like these. That meant Miller's score became even more immersive – its eventual gaps and manufactured chords a necessary exit strategy.
Mahlerian post-minimalism
And so to the festival's fourth post-minimalist monolithic pillar: Hild Sofie Tafjord's Mural II. In the same room that we heard A Large House – Sentralen's large Marble Hall – brass instruments surrounded the audience on three sides, absolutely 'owning' the space not only given their sheer number but also given the fact they were right there in the room, playing, before we the audience had been allowed to enter and mingle in the central space between them.
(...) the temporary alignment of the earth's mouthpiece with its primeval wind
The performance of Mural II from local student and amateur brass ensembles was a truly overwhelming experience that seemed to compress the aesthetic and even bodily effect of long-form Mahler and Wagner. It certainly owes something to the latter composer in its circular form: moving from pitch-less wind sounds to a monolithic major seventh chord deployed in layered waves that then recede into wind once more, as if that ground-shaking tonal resonance was just some passing phenomena – the temporary alignment of the earth's mouthpiece with its primeval wind. But again, the idea of pitch hesitantly taking form trained the ear on the inside of the notes and the harmony just as much as the spatial elements of the performance did.
Here's looking at you
If those four works cumulatively adjusted the ears, others at Only Connect suggested we call upon our eyes to listen more attentively. Bergrún Snæbjörnsdóttir's Esoteric Mass projects its score of dots and circles onto the floor of a blacked-out space. Wind instruments from the Oslo Philharmonic played according to the movements of dots around concentric circles, seemingly emitting a note each time the dot passed the same point on the circle (extra circles appeared and sometimes the circles themselves were momentarily stretched or flattened, each 'phasing' the discourse). But whether or not we could see the notation, and it was a refreshing experience to do so, the methodology gave Snæbjörnsdóttir's piece its own biology – its own heartbeat. As an overarching concept – letting your audience in on all those score-bound secrets – it has potential. But the byproduct is pretty good music.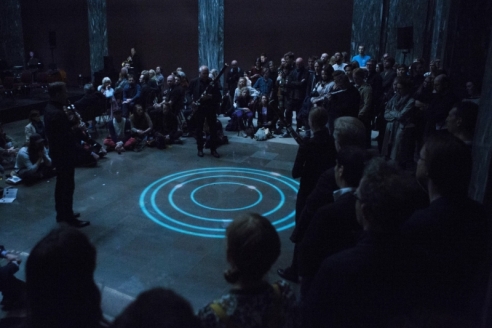 Bergrún Snæbjörnsdóttir's »Esoteric Mass«. Copyright: Henrik Beck / nyMusikk
(...) the methodology gave Snæbjörnsdóttir's piece its own biology – its own heartbeat
Screen Play is a film by Christian Marclay – him again – that also serves as a visual score. We see a virtuosic mash-up of 'found' movie footage overlaid with clear graphic indications that can imply something as simple as a pulse or as abstract as a slow, steady constricting of the visual (and therefore musical) picture. There are strong musical signals all over the film, but it felt like the three musicians who were 'playing' the pictures on electronics were either unable to respond to the cues or were purposefully ignoring them. In the end, it felt like watching a ballet to the wrong choreography – but where the choreography was good enough to push the music aside entirely. People did laugh at this, but they weren't laughing at the music.
If that was an argument for favouring single ideas born of a single mind, so was Jan Martin Smørdal's My Favourite Thing 2, performed by Ensemble neoN (of which Smørdal is a member). The piece was born of interviews in which the ensemble's members divulged early musical memories or preferences. But the score those conversations spawned is episodic and musically confused. Another member of the ensemble, Kristine Tjøgersen, contributed Travelling Light 2, based on the colours and rhythms of traffic headlights captured on film in a tunnel. A fertile starting point, but you'd expect lights to coalesce into patterns or tangible rhythms in that situation, and the music never did so. It felt consciously 'anti-movement', in fact, and call me old-fashioned but I became frustrated that the brittle writing didn't allow the instruments of Ensemble neoN to speak.
A Nordic beyond
Perhaps that's because the new music scene in the Nordic countries seems to have moved beyond that clichéd musical language that forbids either lyricism or sustained sound on the adjacent pitches so beloved by the region's musical founding fathers. Nobody would brand music that doesn't do those things as inherently lacking in value, but when instruments are instruments designed for a specific tone or function, any composer who studiously avoids that function has to deliver one hell of a canny alternative.
(...) a century's worth of tradition listing dangerously as if an artifact on the deck of a stricken ship
No fear of that whatsoever in Øyvind Torvund's Sweet Pieces, the finale of the Oslo Philharmonic's contribution to the weekend. This concerto for percussion and synthesizer felt like a musical Grayson Perry tapestry – knowingly kitsch but always ready to pull the rug from under its own romantic-rhapsodic tendencies. Like Perry's work, the piece had elements of strident nostalgia and retrospection: it lunged into raucous, tripped-out Bacharach-style salon music and then straight into virtuosic celebrations of Straussian orchestral virtuosity. But those elements were either punctuated by synthesizer broadsides or undermined as instruments started to drift purposefully out of tune, a century's worth of tradition listing dangerously as if an artifact on the deck of a stricken ship. Countless invasions of mess or stylized gesture recalled Nielsen's Sixth Symphony but Torvund is an astute enough musical architect to let you know exactly where you are in the narrative (I knew exactly when the end was coming). A gregarious and charming piece – a welcome roller coaster ride in a weekend of otherwise purifying music.